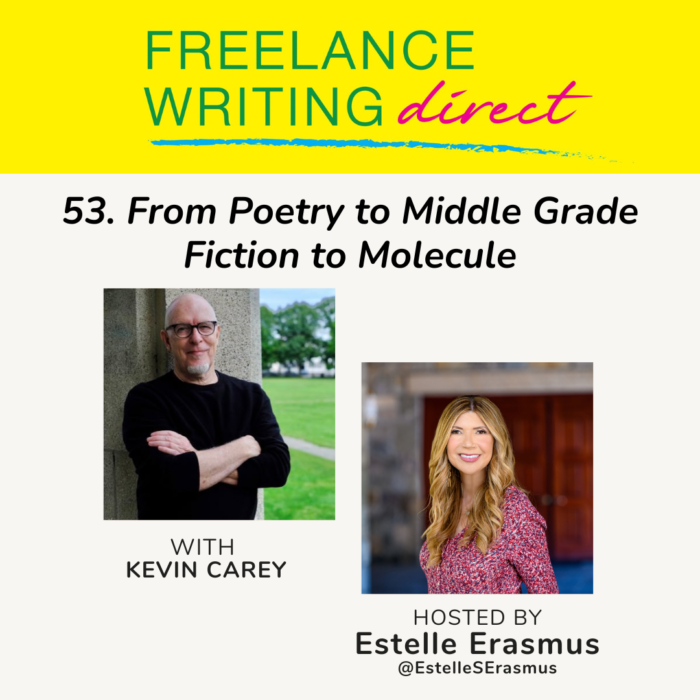 I first met Kevin Carey when he was a guest speaker for my NYU class on Micro Memoir when he spoke about the micro memoir site Molecule. He was so generous with his advice, that I was thrilled to hear that he had a new Middle Grade Fiction book coming out and asked him to speak about the book, poetry, Molecule and more on this program.
I was proud to be a staff reader for the latest issue of Molecule.
In this episode:
• How Kevin came up with the idea of writing Junior Miles and the Junkman [3:13]
• The transition of writing poetry to writing middle grade fiction [6:24]
• Writing compelling characters and taking them on a conflict-filled, dramatic journey [9:58]
• Tips for telling short stories in the literary journal Molecule in 50 words or less [13:27]
• Stealing fact from fiction [29:07]
• Revising and tightening up your writing [31:01]
Watch on YouTube (And make sure to subscribe to my channel)
Connect with Kevin
Kevin Carey is Coordinator of Creative Writing at Salem State University. Books include: The Beach People (2014), The One Fifteen to Penn Station (2012), Jesus Was a Homeboy (2016) which was an Honor book for the Paterson Literary Prize, & Set in Stone (2020). His poems have appeared on The Writers Almanac on National Public Radio three times and on The Academy of American Poets Poem a Day. Kevin is also a playwright and a filmmaker. He has co-directed & co-produced two documentaries about poets, All That Lies Between Us and Unburying Malcolm Miller. A crime novel, Murder in the Marsh, from Darkstroke Books, was released in October (2020). A new middle grade novel Junior Miles and the Junkman will be out in September of 2023 from Fitzroy Books / Regal House Publishing and a co-written poetry collection Olympus Heights (Lily Poetry Review) will hit in October of 2023.
Connect with Kevin
Website
Email: [email protected]
X (Twitter)
Instagram
Connect with Estelle
Her website: (sign up for her newsletter and receive her pitching guide).
Writing That Gets Noticed: Find Your Voice, Become a Better Storyteller, Get Published: Available wherever books are sold
Adjunct Instructor, NYU (Sign up for her latest classes)
Substack (craft tips, editor information, writing opportunities, early announcements and coming soon for paid subscribers special Freelance Writing Direct clips)
Instagram
X (formerly Twitter)
Threads
Blue Sky: @estelleserasmus.bsky.social
Don't Forget
Make sure you didn't miss the episode with Claire Dederer talking about Monsters.
Spots are limited so sign up for my free NYU Editor-on-Call Conversation  with Derrik Lang of Shondaland.
Get my craft advice on my Substack