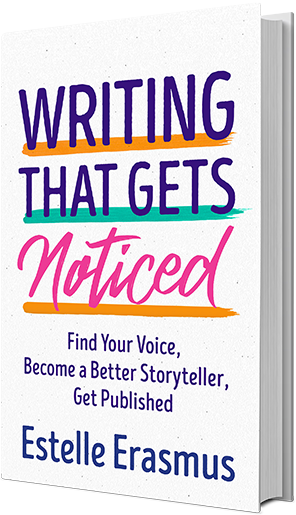 Writing That Gets Noticed
Find Your Voice, Become a Better Storyteller, Get Published
I am so excited to share that Writing That Gets Noticed: Find Your Voice, Become a Better Storyteller, Get Published is available to order. It published on June 13th. Yay!
Here is my book trailer!
This book has been the culmination of notes I started taking when I began teaching at NYU and for Writer's Digest, and a product of my years as a magazine editor and prolific journalist and essayist, and writing teacher. It also includes my philosophy of life and living, plus my stories from my life as a magazine editor, and the work from many of my students, and that makes it extra meaningful to me.
Thank you for your support and encouragement and for joining me in my excitement about this book — truly a labor of love.
In addition to ordering the book, you can also click onto GoodReads and say you want to read the book!
If you want to see who gave me fabulous blurbs for my book, head on over to TikTok where I reveal all!
I also have a new Substack: Writing That Gets Noticed and have fun plans for that project, and recently covered my NYU event: editor-on-call with a New York Times editor.
Come on in and join the community.
Praise
"Estelle Erasmus has spent years in the writing and editing trenches, and now she's surfaced to share all her best secrets. From practical exercises and checklists to insider information you won't find anywhere else, Writing That Gets Noticed is full of invaluable tips and tricks that won't just get you results — they'll get you published."
— Noah Michelson, editorial director of HuffPost Personal and host of the D Is for Desire podcast
"Writing That Gets Noticed is a tour de force in storytelling. Estelle Erasmus is a generous teacher with the spark that comes from having her own time on the stage. Readers will give this book a standing ovation."
— Ken Fakler, Emmy, Olivier, and four-time Tony Award winner and coproducer of Dear Evan Hansen, Beautiful, Parade, Piano Lesson, Funny Girl, and Some Like It Hot

"Journalist Erasmus debuts with a competent primer on how to write eye-catching essays and articles. Primarily addressing amateur writers, Erasmus breaks down the writing and publication process, describing how to generate story ideas, pitch them, find sources, sharpen one's writing, and work with editors. She recommends strategies for finding inspiration, including journaling, writing "six-word memoirs" (the author provides hers: "Midlife mom finds self writing/teaching"), and scanning the news for trends. Suggestions for writing personal essays include hooking readers by opening with "dialogue, scene setting, or action" and making liberal use of sensory details. She contends that pitches should be two or three paragraphs that answer the "who, what, where, when, and why" of the story, and she encourages readers to refine and repurpose rejected pitches for other outlets. The advice is sensible if standard, but this distinguishes itself in the attention given to dealing with the psychological effects of trying to get published, particularly the tips on dealing with rejection (a breathing exercise promises to lower stress, and Erasmus offers encouraging words on persistence: "It's about consistently showing up after everyone else has given up"). The guidance isn't new, but it still makes for a serviceable introduction to getting published." (June)
— Publishers Weekly
"This book is brilliant — exactly what every writer needs to stand out from the pack, navigate through the bumps and bruises of publishing, and thrive."
— Michele Borba, EdD, educational psychologist and bestselling author of Thrivers: The Surprising Reasons Why Some Kids Struggle and Others Shine

"Upbeat and wise, Writing That Gets Noticed by Estelle Erasmus is an essential guide for nonfiction writers. From inspiration to publication and beyond, Estelle helps writers navigate the landscape, generously sharing from her deep well of experience."
— Vanessa Hua, author of Forbidden City
"Writing That Gets Noticed is a must-read for writers, especially members of Gen Z, who want to break through the noise in today's fast-paced world of publishing and content creation."
— Ava McDonald, founder and CEO of Zfluence
"Estelle Erasmus's Writing That Gets Noticed is the book I would hand to every new writer eager to make an impact and get their stories into publications that matter. Packed with actionable advice on landing pitches and stories at national outlets, it's also an essential guide to understanding what makes a good idea in the first place and building on your own storytelling strengths before you commit words to the page."
— Alan Henry, special projects editor at Wired and author of Seen, Heard, and Paid: The New Work Rules for the Marginalized

"This generous and wise book on writing and getting published is the culmination of Estelle Erasmus's vast experience as a writer, editor, mentor, and teacher. The advice, techniques, astute observations, and essay analysis will benefit all writers, whether novice or expert. If you want to stand out in a crowd of writers, read this book and gain Estelle's competitive edge."
— William Dameron, author of The Lie and The Way Life Should Be
"Estelle Erasmus has written a valuable resource with creative tips for veteran authors and aspiring writers alike. Inspiring and easy to follow, this book will get your ideas flowing and help your work get the audience it deserves."
— Jen Maxfield, Emmy Award–winning reporter and author of More After the Break: A Reporter Returns to Ten Unforgettable News Stories
"As a data scientist and former executive editor at Gallup, I truly appreciated the tips and commentary about the importance of data in a writer's research. Writing That Gets Noticed is essential beyond data, however, as I enjoyed the 'Estelle's Edge' tips throughout the book, pithy aphorisms that are illuminating."
— Art Swift, professor of political communications at American University and host of The Nexus with Art Swift podcast
"Whether you're an aspiring writer wondering how to break in or a seasoned pro looking to up your game, Writing That Gets Noticed is a great guide to the world of writing and publishing from someone who's been there, done that, and taught others to do it as well. Filled with actual examples of articles, essays, and pitches that worked (and a few that didn't), this is a great tool to help you launch a successful writing career."
— Minda Zetlin, author Career Self-Care: Find Your Happiness, Success, and Fulfillment at Work, contributing editor of Inc., and former president of the American Society of Journalists and Authors
"The prolific, indefatigable, and astonishingly generous Estelle Erasmus has written the quintessential bible for aspiring writers. Not only is this book a must-have guide through the trials and tribulations, joys and elations of the publishing process, it is an intimate, highly entertaining exemplar of great storytelling and a gift to writers and readers alike."
— Jenny McPhee, author of The Center of Things and translator of Family Lexicon by Natalia Ginzburg
"Whether you're just launching your freelance writing career or years into it, this is an invaluable guide to everything you need to know about the craft and business of getting your work seen. It's quickly become my new go-to reference."
— Wendi Aarons, author of I'm Wearing Tunics Now
"This clear, user-friendly guide is filled with concrete, easy-to-follow advice. Estelle Erasmus demystifies the writing, pitching, and publishing process like a wise friend in your corner."
— Dawn Raffel, developmental editor, fiction editor at Northwest Review, and author of Boundless as the Sky
"If you want to invest in yourself as a writer, no matter what age or stage you're in, this book is the ticket to growth. Estelle Erasmus shares savvy strategies and a plan to give you an edge in publishing."
— Bobbi Rebell, CFP®, founder of Financial Wellness Strategies and author of Launching Financial Grownups: Live Your Richest Life by Helping Your (Almost) Adult Kids Become Everyday Money Smart