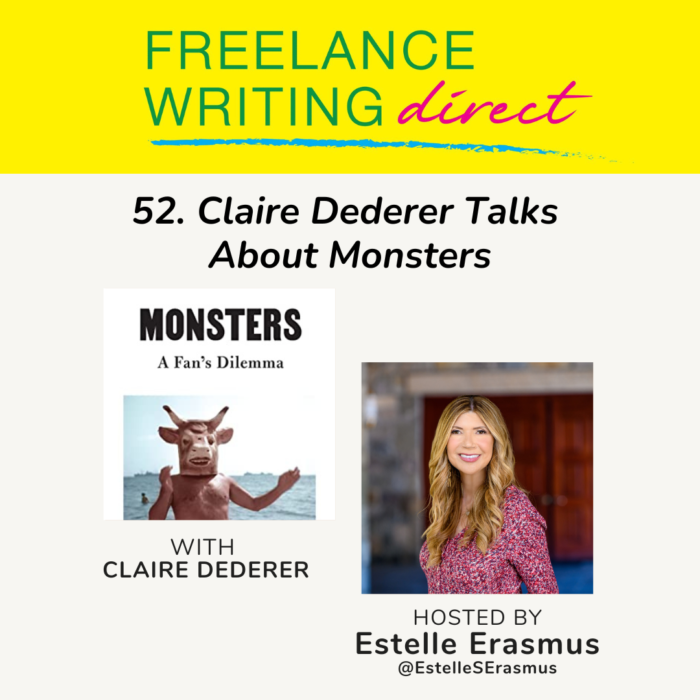 I took a class with Claire Dederer at Hedgebook on memoir years ago, and she always stuck out in my mind as a writing teacher who really knew her stuff. I am still working on my memoir by the way, but I definitely added elements of memoir into my book Writing That Gets Noticed, and I'm so glad I made that decision.
Claire made multiple decisions as she wrote her critically-acclaimed new book Monsters, and shared them all with Freelance Writing Direct.
In this episode:
• How Claire's viral article led to her writing her book [2:32]
• Why Claire decided to add a memoiristic approach to this book, rather than just a journalistic approach [8:22]
• The process and structure of Claire's book [12:32]
• Claire's opinion on 'cancel culture' and how she approaches writing about it [18:58]
• Adding a humanizing element to the book through memoir [29:13]
• The importance of writing with scene [34:29]
About Claire
Claire Dederer is a bestselling memoirist, essayist, and critic. Her books include the national bestseller Monsters: A Fan's Dilemma and the critically acclaimed memoir Love and Trouble: A Midlife Reckoning, as well as Poser: My Life in Twenty-three Yoga Poses. Dederer is a longtime contributor to The New York Times. Her essays, criticism, and reviews have also appeared in The Paris Review, The Atlantic, The Nation, Vogue, and many other publications. She began her career as the chief film critic for Seattle Weekly. She is the recipient of a Hedgebrook residency and a Lannan Foundation residency.
Connect with Claire
Website
Instagram
Facebook
X
Read Monsters
Connect with Estelle
Her website: (sign up for her newsletter and receive her pitching guide).
Writing That Gets Noticed: Find Your Voice, Become a Better Storyteller, Get Published: Available wherever books are sold
Adjunct Instructor, NYU (Sign up for her latest classes)
Substack (craft tips, editor information, writing opportunities, early announcements)
Instagram
X (formerly Twitter)
Threads
Blue Sky: @estelleserasmus.bsky.social
Don't Forget-Show up for Shondaland at My next NYU Editor-on-Call Event in the Series
My next NYU Editor-on -Call event in my series is November 15th at 12:30-1:30 pm with Derrik Lang, the Lifestyles Editor of Shondaland. So many of you have questions about publishing there, and in this free event in conversation with Derrik, he will answer all of them. Sign up here!