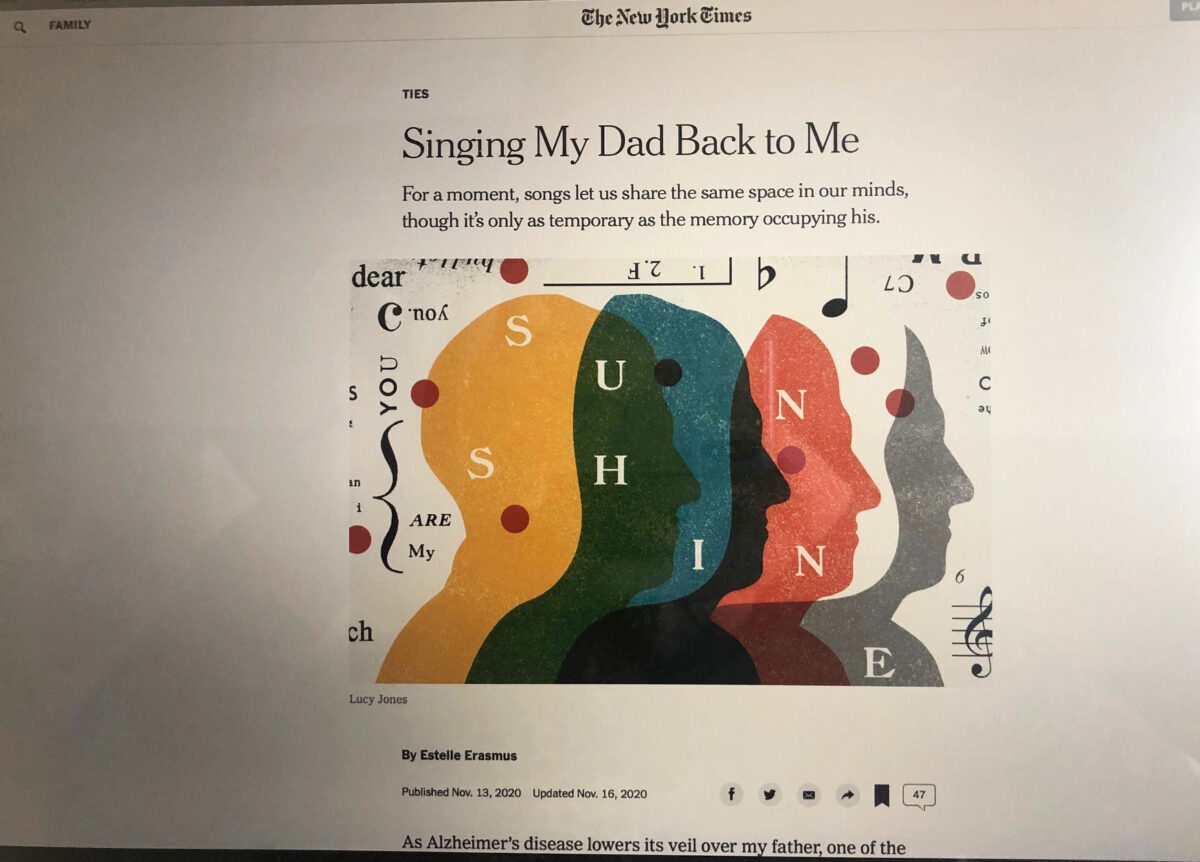 Hi everyone: Welcome to my new followers and writing students from my classes in New York University (SPS CALA) and Writer's Digest.
I recently published my fifth piece in The New York Times (in the "Ties" column), and this one has special meaning to me, because it is an essay grounded in my very personal experience. It is about connecting to my dad who has Alzheimer's with music and was published in the very popular "Ties" column. This is the essay: Singing My Dad Back To Me. I hope you enjoy it, and if you have a loved one suffering from Alzheimer's or dementia, I hope it gives you solace and another way to connect.
I write in the essay:
"As the months of quarantine dragged on, I worried that he might not remember who I was when he saw me again. Desperate to reach him, unable to touch him, I videotaped myself singing "Summertime" from the show "Porgy and Bess," the same song I sang to my daughter when she was born, and posted it on Facebook.

"One of these mornings. You're gonna rise up singing. Then you'll spread your wings, and you'll take the sky. But 'til that mornin' there's a nothing can harm you. With daddy and mammy standing by." Mom told me dad smiled with recognition when he saw the video. "That's Estelle," he said. Encouraged by his reaction, I made it more personal by singing songs to him over the phone."
You can read entire essay go here.
I'm also absolutely honored that I am getting letters and emails from so many people all around the country. I'm also delighted that so many have been sharing my essay, including Alzheimer's associations and researchers. You can see more on Twitter and Instagram.
MY TEACHING AT NYU
I want to also share some news: My online 2021 Spring class Writing Midlife for NYU, sold out within 2 weeks. If you want to get on the early list for my summer 2021 session of the class, sign up here.
Now, NYU is taking registration for my March 2021 class, Writing Parenthood and it is already nearly half full. It will sell out also.
In the online class (it's not a Zoom class), I work with students on pitches, essays and articles, while also sharing my publishing wisdom through weekly lessons and videos. An added bonus: I offer recorded interviews with top editors from pubs like The New York Times, GH, Parents, Next Avenue, Wired, AARP and more, so my students get to see exactly what editors are looking for. My students have been published with work they did in class in The New York Times, GH, Parents, The Daily News, Self, Next Avenue, Chicken Soup for the Soul and more. To sign up, go here.
Many students take my class several times because each time I have different interactions, work with different students in the Forum (so everyone can see my process), and I'm always taping interviews with new editors to share that are for my NYU students only.
For a list of all my NYU classes (including the journalism one I teach via Zoom for teens) go here.
Don't forget to check out my Forbes article on fantastic new fashion company, Beadstein.
Pandemic Panache: Fashion Company Beadstein is Styling for Our Times
That's all for now. Stay safe everyone. More soon…
XO
Estelle