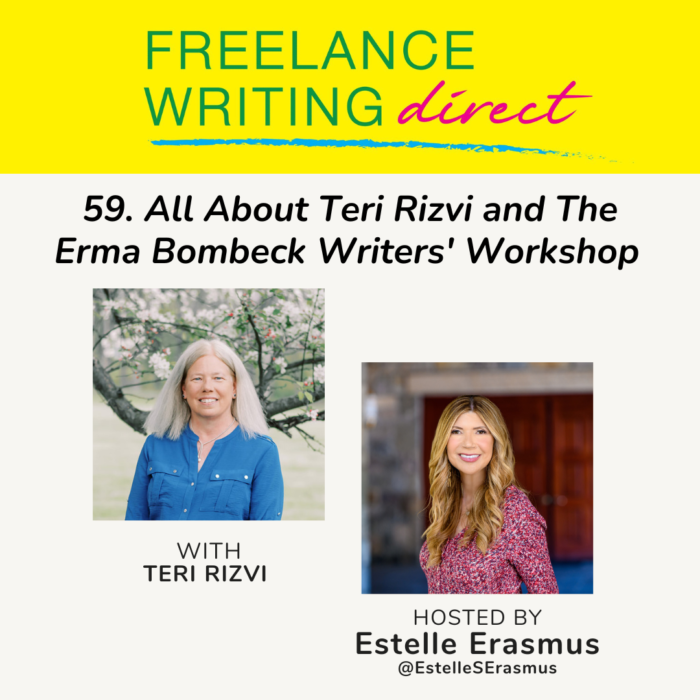 I met Teri Rizvi back at the Erma Bombeck Writers' Workshop  in 2018, I believe. She asked me to do a speed dating session for writers and I had such a great time doing it. Then, during the pandemic, I did a virtual session on how not to be ghosted with editors for the conference.  I'm excited to be speaking with Teri now for Freelance Writing Direct, especially because registration for the conference is an appointment event, and it begins next week on November 15th.
In This Episode
Teri's process for writing about herself in her book [2:45]
How a small every day moment can be universal through writing [4:03]
How Teri structured her book to encompass different topics [6:43]
The practice of elevating your readers with your writing [8:25]
Writing with humor [24:53]
Why the Erma Bombeck Writers' Workshop registration is an appointment event [26:02]
Estelle's interview with Zibby Owens on Freelance Writing Direct
Watch on YouTube
About Teri Rizvi
Teri Rizvi is the founder and director of the Erma Bombeck Writers' Workshop at the University of Dayton, where she serves as executive director of strategic communications. She is the author of One Heart with Courage: Essays and Stories and the co-editor of Laugh Out Loud: 40 Women Humorists Celebrate Then and Now … Before We Forget and Sisters!, Bonded by Love and Laughter, both published in conjunction with the Erma Bombeck Writers' Workshop. Her essay "Living in the Moment" appeared in Fast Fierce Women (Woodhall Press, 2022). Her essays and feature stories have appeared in USA Today, The Christian Science Monitor, The Guardian (London), University of Dayton Magazine and the Dayton Daily News, among other print and online media.
Connect with Teri
Website
Erma Bombeck Writers' Workshop
Connect with Estelle
Her website: (sign up for her newsletter and receive her pitching guide).
Writing That Gets Noticed: Find Your Voice, Become a Better Storyteller, Get Published: Available wherever books are sold
Adjunct Instructor, NYU (Sign up for her latest classes)
Substack (craft tips, editor information, writing opportunities, early announcements and for paid subscribers special Freelance Writing Direct extended videos).
Instagram
X (formerly Twitter)
Threads
Blue Sky
New Interviews
I was also interviewed on a radio program CapeTalk for my piece on postpartum rage in Parent's Magazine. Here is the link to the radio program.
I was also interviewed for the podcast Writers' Voices: Estelle Erasmus Gives Great Advice in Writing That Gets Noticed
Writing
Don't miss my post about my participation in the Writer's Digest Conference
Don't miss my latest substack issue called Beyond Craft to Publishing Confidential where I offer an extended version of my podcast interview with Kathleen Schmidt of Publishing Confidential for paid subscribers.
Mentoring
I'm so honored to be a part of the Season 19 AWP Writer to Writer Mentor program. My mentee is the talented Leslie Stonebraker.
I am also a 30 minute mentor for Women's Media Group.
Estelle's Podcast Appearances for Writing That Gets Noticed