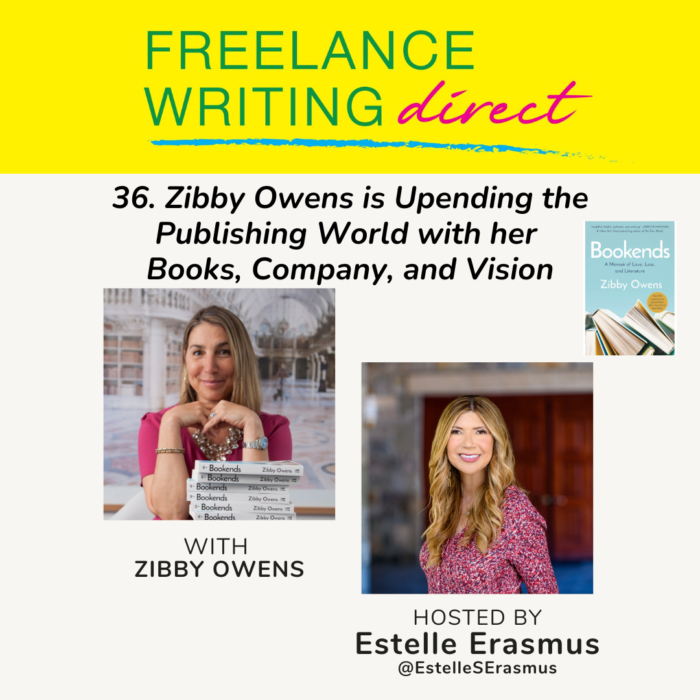 I first met the powerhouse that is Zibby Owens a couple of years ago, pre-pandemic when she agreed to be on a panel I led on parenting writing for the ASJA conference. Since then, I've watched as her career and writing and leadership in the writing community has taken flight. We cover it all in this episode!
In this episode
• How Zibby started her publishing company.
• Tips for telling an interesting story.
• What types of books Zibby is looking to publish through Zibby Books.
• How Zibby manages multiple business ventures.
• Finding community in the publishing world
Watch on YouTube
About Zibby
Zibby Owens is an author, award-winning podcaster, entrepreneur and CEO. Owens founded Zibby Media, a privately held media company in 2018 with her award-winning podcast Moms Don't Have Time to Read Books.
The company has since grown to include the publishing house Zibby Books, the magazine, Zibby Mag, the podcast Network, Zibby Audio, the education platform, Zibby Classes and community events like retreats, a book club, and a writing community.
She was celebrated as New York's most powerful book-fluencer by New York Magazine. Owens is a regular contributor to Good Morning America and other broadcast outlets. She's the author of the memoir Bookends, a memoir of love loss in literature, the children's book, Princess Charming, and the editor of Two Anthologies. Owens is a graduate of Yale University in Harvard Business School. She lives in New York with her husband, Kyle Owens of Morning Moon Productions, and her four children.
Connect with Zibby
Website
Instagram
Zibby Media
BLANK: A NOVEL
Zibby's Books
Connect with Estelle:
Adjunct Instructor, NYU: Writing About Midlife and Beyond Through Memoir, Essays and Articles(space is limited for this 2 month Zoom class). Sign up now for class in September. 
Her website: (sign up for her newsletter and receive her writing guide).
Writing That Gets Noticed: Find Your Voice, Become a Better Storyteller, Get Published: Available wherever books are sold
Her Substack (with pitch calls and an interview with an editor from The New York Times)
Blue Sky: @estelleserasmus.bsky.social