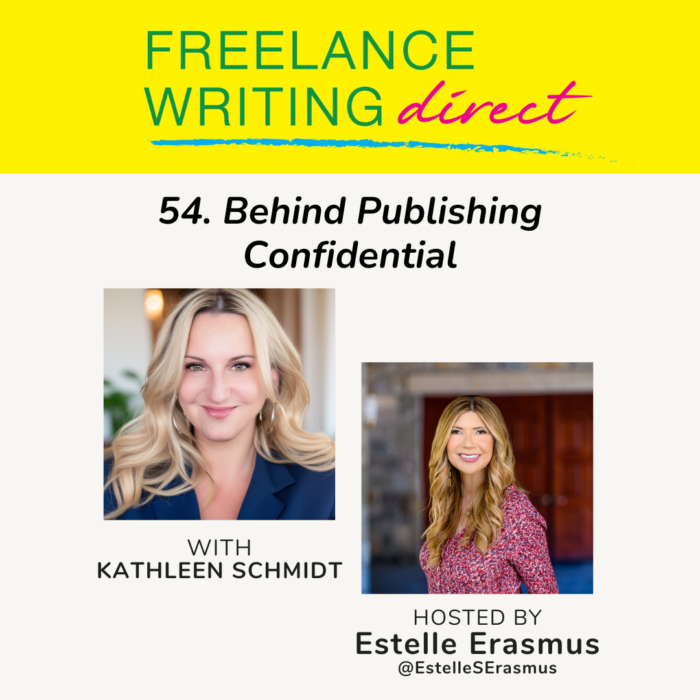 I reached out to  Kathleen Schmidt after she presented a webinar on book publishing for Women's Media Group, an organization we both belong to. I was impressed with the depth of her knowledge and delighted with her honesty about the industry, which she shares in her popular substack, Publishing Confidential.
In this episode:
• Kathleen's experience writing about publishing and public relations for her substack Publishing Confidential and why those newsletter issues have gone viral. [3:08]
• Why is the publishing industry broken? [3:45]
• Kathleen's view on book tours, and why they might not be the best options for selling books. [15:26]
• How to create a strategy for your book launch. [17:11]
• The 411 on signing books at bookstores. [13:16]
• Best practices for leveraging substack. [17:21]
Watch on YouTube
To watch the extended version of this interview, with Kathleen's recommendations on what to read, watch, buy and more to gain insight and information, become a paid subscriber to Estelle's substack
Don't forget to register for Estelle's Editor-0n-Call event on November 15 with Derrik Lang from Shondaland. Details and registration link here.
About Kathleen Schmidt
As the Founder and CEO of Kathleen Schmidt Public Relations, she is a well-respected voice in book publishing with in-depth experience in all aspects of the industry, including as a publicist, literary agent, acquisitions editor, and ghostwriter. Her career encompasses 30 years of creating and directing impactful and strategic global media, marketing, and branding campaigns for politicians, A-List celebrities, athletes, and high-profile personalities. To date, she has worked on 50 New York Times bestsellers, and her clients have continuously appeared in top-tier national print, broadcast, and radio outlets such as The Today Show, Good Morning America, Vogue, Elle, Financial Times, Vanity Fair, GQ, and Sirius XM.
Her fast-growing Substack newsletter, Publishing Confidential, shares her wealth of inside knowledge that she hopes will help demystify the book industry. Married with two children, she resides in New Jersey.
Connect with Kathleen Schmidt
Connect with Estelle
Her website: (sign up for her newsletter and receive her pitching guide).
Writing That Gets Noticed: Find Your Voice, Become a Better Storyteller, Get Published: Available wherever books are sold
Adjunct Instructor, NYU (Sign up for her latest classes)
Substack (craft tips, editor information, writing opportunities, early announcements and coming soon for paid subscribers special Freelance Writing Direct clips)
Instagram
X (formerly Twitter)
Threads
Blue Sky
Estelle's article on Maximizing Book Launch for Writer's Digest
Estelle's Podcast Appearances for Writing That Gets Noticed