Hi everyone,
It's been a busy time since Sherry Paprocki and I launched Freelance Writing Direct last month.
Our latest episode is a topic that so many of you can relate to—What to Reveal and How to Conceal! Other episodes cover Nurturing the Writer's Soul, TED Talks, Optioning your Work, Advice on Working With Editors and more.
Give a listen and let me know what you think at freelancewritingdirect (at) gmail (dot) (com). I'm so excited about all the cool plans we have coming up for the podcast.
We are now in the top 10% of podcast releases, which simply confirms for me that we are providing a service to the writing community, which is what we intended. I love some the comments we've received. Look at this one.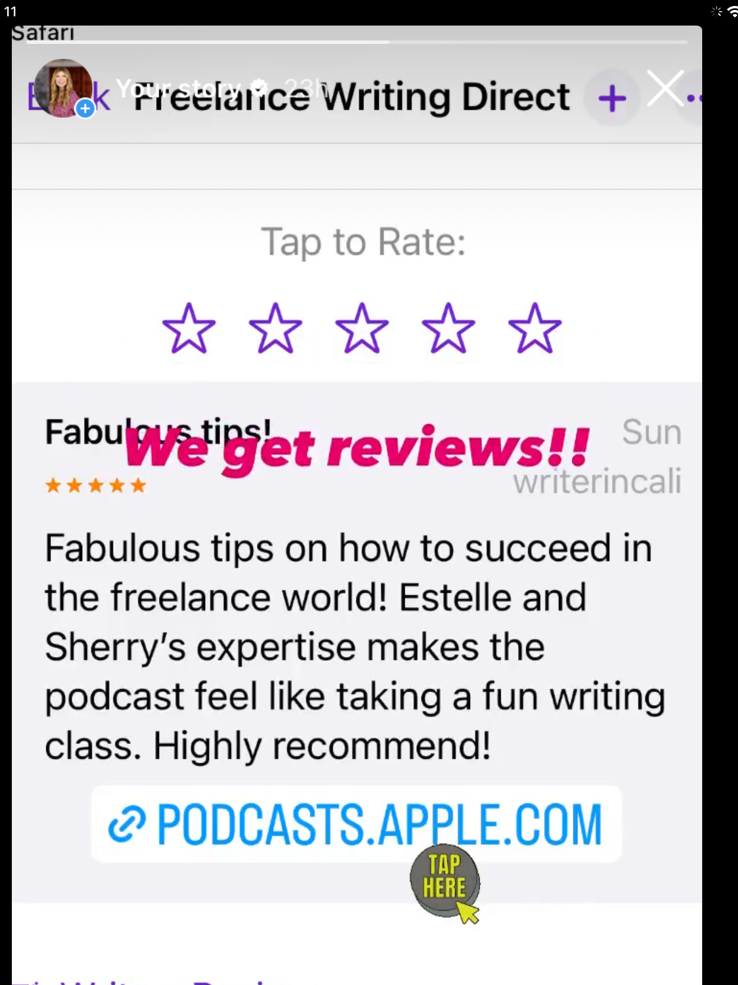 Other news! I finished my book edits! WRITING THAT GETS NOTICED: Find Your Voice, Become a Better Storyteller, Get Published will be out in 2023 from New World Library, and I couldn't be more excited!
Also, my first free Editor-on-call event in collaboration with NYU was with Allison Klein, Inspired Life editor from The Washington Post and it was an amazing event. Allison provided so much great information. For those of you who signed up for my website that day, look for an email from me this weekend with my writing tips. The event was so successful, that we are going to make it a Series. Stay tuned for information on the next free Editor-on-Call event, which is going to be fantastic.
What else? Oh, yes, I'm having so much fun writing short with my current Micro Memoir class at NYU.
My latest "All About the Pitch"column is out in Writer's Digest and it is on the amazing Guideposts magazine. Check it out at the newsstand or subscribe. So much good info in every issue. I also just participated in the first Writer's Digest Nonfiction virtual conference and I led a fun and interactive webinar about essay writing. I loved all the cool and poignant writing that the attendees wrote during my session. I'm sure you will see some of it published very soon.
I want to leave you with an Estelle's Edge (aka pro tip).
Clarity Trumps Flowery: I've seen a lot of flowery language, but if you are not being clear, then the reader won't want to come along on the journey with you. Language is a tool to move the story forward and make the reader stop and admire your fancy wording. If you are using fancy, even literary language but nothing is happening, it's not a story, it's a selfie.
Have a great week and have you checked me out on Twitter (yes, I'm still there), Instagram (I mostly do stories), and my newest love TikTok (where you get to see me having fun, and wearing false eyelashes while teaching writing wisdom!
Till next time.
Estelle