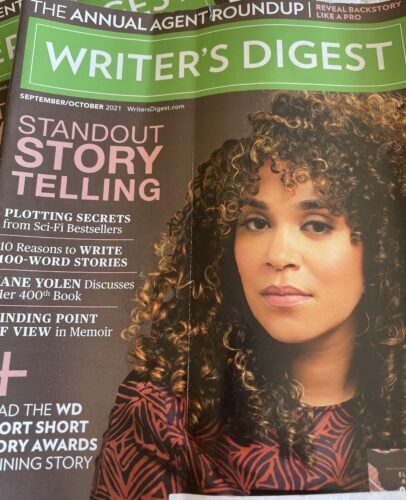 Welcome to my newest readers. As soft summer energy turns to the brisker feel of fall, I plan to post more. That is my promise to you.

As usual, I have a lot to share, but I'm going to break it down into several posts.
I'm very proud of my students and all they have accomplished. I am planning a big post sharing just how much, which I've been adding to over the summer. In the meantime, here are some other highlights!

1) I'm so excited to share my 4th "All About the Pitch" column for Writer's Digest (only in print). This one features the fantastic editorial director for Huffington Post Personals, Noah Michelson (who works with the equally fabulous Emily McCombs. In my column, I interview editors on what they are looking for, give specific submission tips, share rates and contact info and also analyze pitches to show what works and why. Analysis is kind of my speciality, so I love doing that.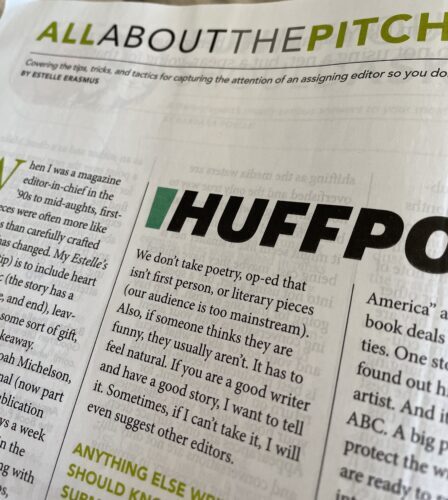 2. My NYU Zoom Classes
I'm thrilled to share that I will be running several one night workshop-focused Zoom classes for NYU this October on a variety of subjects from Writing Your Life: Using Lived Experience for Article Ideas and Pitches (almost full), to Writing a Strong Introduction to an Article or Essay (just a few spots left), to Writing a Strong Ending to an Article or Essay (just a few spots left), and Editing Articles and Essays to Submit for Publication. I developed the Zoom workshops in response to demand by some of my student for more real time with me. And please don't forget my online Writing Midlife and Beyond (which starts September 27th and has just a few spots left). Almost all of my recent students have published one or two pieces derived and worked on in class.
Hope to "see" you in my classes.
Here is a recent testimonial I received from a student who has now had two pieces accepted for publication that she worked on in class with me. I'm so proud of her.
"Estelle has been a dream come true! I stumbled across her course by pure luck online when I was desperate to learn how to publish with national publications. I kept up with her through her online newsletters for about a year before I decided to take the plunge and enroll in her writing class. At first I wasn't sure what to expect or how much value the course would add to my publication goals, but from day 1, Estelle put my apprehensions to rest. Not only did she produce a curriculum fully invested in our success by providing weekly opportunities to review work and lend us direct access to editors, but she was supportive, patient and kind with her edits and insights. I've truly never met an instructor more dedicated and devoted to their students' success. Estelle not only wants and pushes you to succeed, but she takes your success to mean her own, which shows the sincerity and passion with which she approaches her role as a devoted instructor.
Thanks to her guidance, I'm well on my way to achieving my dreams of publishing! I can't recommend her or her expertise enough to anyone who is serious about writing and making a name for themselves in the industry! She is known as publishing on steroids, and I couldn't think of a more apt way to describe her or the results delivered by her courses! Thank you times a million, Estelle" –Salina Jivani.
Please follow me on Twitter and Instagram! More soon!
xx Estelle