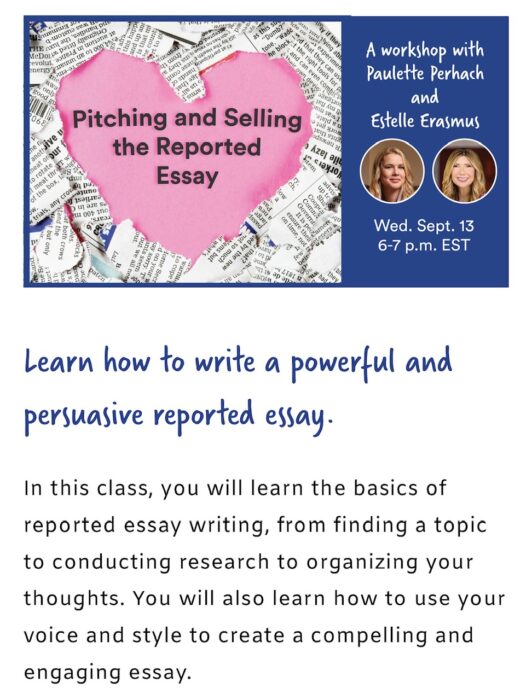 I have so much to share. It seems like life is moving very quickly these days. Maybe it has to do with the scientific-based fact that time seems to move faster as you get older. Remember those languorous days of summer from childhood? So do I. But, this summer, the one where I published my book Writing That Gets Noticed (and wrote about maximizing my launch week for Writer's Digest), spun by so quickly. In fact, this entire summer flew by so quickly.
Despite enjoying this time with my daughter before she starts High School, I am so excited about a lot of new initiatives happening in my professional life.
One of them is pairing up with the talented Paulette Perhach to teach a workshop on pitching and selling reported essays. Paulette is an author, writing teacher, and just had a wonderfully framed reported essay published in The New York Times on ADHD. I cover reported essays extensively with examples from my work and that of my students in Writing That Gets Noticed, and I'm so excited to be teaching this workshop with Paulette.
Sign up here, and I hope to see you in class.
I am announcing my next editor on call event for NYU on my Substack today, so please make sure to subscribe here. In my Substack I also share editor call outs for pitches and publisher news, too. You don't want to miss it.
And don't forget to check out all the episodes on Freelance Writing Direct, with advice, tips and strategies from authors like Cheryl Strayed, Ann Hood, and assigning editors from Narratively, Brevity, Huffington Post Personal, WIRED and more.
And before I forget, Writing That Gets Noticed was excerpted in publishing guru Jane Friedman's widely read newsletter, and I'm so delighted. Jane is the voice in book publishing and she knows what works and what doesn't. Here is the link to the excerpt: How to Successfully Pitch Op-Eds and Timely Cultural Pieces, where I share how important it is to add research to your pieces, and why taking a counterintuitive approach to your piece will get an editor's attention.
See you in class!