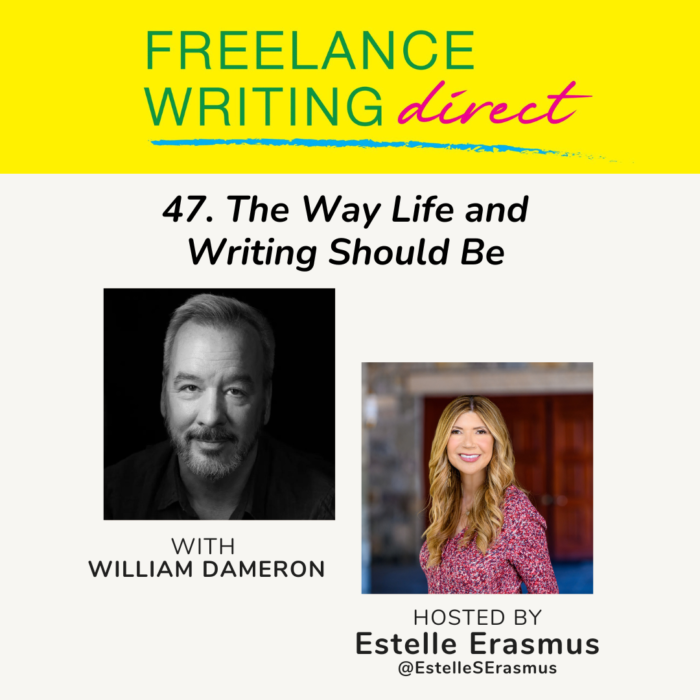 Show Summary
I'm so excited to be speaking with William Dameron, Author Extraordinaire about his new book The Way Life Should Be. Bill  shares tons of writing advice here, and everyone will be better for it.
In this episode: 
Switching genres from memoir to fiction writing [2.54

]

The freedom of writing fiction [7.07

] 

What to leave out in your story and why? [1o.22

] 

The power of deadlines [11.49]
Coming to writing later in life [13.33]

Using literary devices, such as objective correlative to enhance your story [18.18]
Check out the episode on YouTube:
About William
William Dameron is an award winning blogger, memoirist, essayist and the author of "The LIE, A Memoir of Two Marriages, Catfishing & Coming Out." His work has appeared in The New York Times, The Boston Globe, Salon, The Huffington post, and in the book, Fashionably Late: Gay, Bi and Trans Men Who Came Out Later in Life. He is an IT Director for a global economic consulting firm, where he educates users on the perils of social engineering in cybersecurity. William, his husband, and blended family of five children split their time between Boston and the coast of southern Maine.
Connect with William
The Lie: A Memoir of Two Marriages, Catfishing & Coming Out
Estelle's podcast with Ann Hood: Flying High with Storyteller Ann Hood  (mentioned in this episode)
Estelle's article on William Dameron for Forbes: William Dameron Doesn't Lie But Here's Why He Wrote the Book On It
Connect with Estelle:
Her website: (sign up for her newsletter and receive her writing guide).
Writing That Gets Noticed: Find Your Voice, Become a Better Storyteller, Get Published: Available wherever books are sold
Adjunct Instructor, NYU: Writing About Midlife and Beyond Through Memoir, Essays and Articles (space is limited for this 2 month Zoom class). Sign up now for class in September. 
Her Substack (with pitch calls and an interview with an editor from The New York Times)
Blue Sky: @estelleserasmus.bsky.social