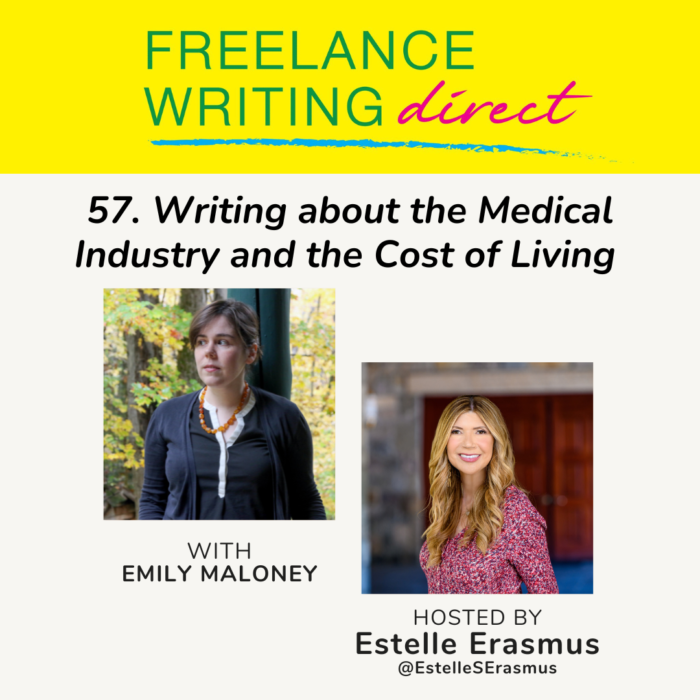 Welcome to all my new subscribers. I'm so happy that Freelance Writing Direct is now one year old! You can look at Podcasts to see all the episodes, including ones with Cheryl Strayed, Ann Hood, and assigning editors Noah Michelson, Alan Henry, and more.
Also, subscribe to my substack for craft advice and writing opportunities, and don't forget to sign up for my next NYU Editor-on-call event November 15th (more info below) where I'll be in conversation with Shondaland's Derrik Lang.
This is my newest interview for the wonderful site for writers: Freedom with Writing: Interview with Editor/Author Estelle Erasmus
Also, these are the two (!) articles Minda Zetlin (Career Self-Care) wrote after speaking with me for Inc. Magazine.
17 Small Changes that Will Make Your Writing Irresistable, According to an NYU Writing Professor. 
Here's How Smart People Use the Empathy Rule to Make Sure Their Emails Get Read
And this is my first non-publishing-related piece I've written since writing my book. I wrote about a past life regression experience with a surprising result — and connection to my current life — for The Digital Party.
Now, on to this episode:
I first connected with Emily Maloney through Facebook. I watched as she traversed through her publishing journey, and quickly got another book deal right after publishing her first, a rare, and exciting situation. I like how she used a mixture of personal, and reported elements to tell her story in essays of the broken medical industry. I worked in the medical education part of the industry in the CME and promotional side for seven years (as I discuss in my book), so I was especially interested in reading about Emily's journey.
In this episode:
Watch on YouTube
About Emily Maloney
Emily Maloney is the author of COST OF LIVING (Holt), a USA Today Best Book of 2022. Her work has also appeared in Glamour, Virginia Quarterly Review, Best American Essays, and the American Journal of Nursing, among others. In addition to her work as an EMT and ER tech, she has worked as a dog groomer, pastry chef, general contractor, tile setter, and catalog model and has sold her ceramics at art fairs. Maloney has twice been awarded a MacDowell Fellowship. She lives in Evanston, Illinois. Her next book, BURN THIS HOUSE DOWN, is forthcoming in 2025.
Connect with Emily
Connect with Estelle
Her website: (sign up for her newsletter and receive her pitching guide).
Writing That Gets Noticed: Find Your Voice, Become a Better Storyteller, Get Published: Available wherever books are sold
Adjunct Instructor, NYU (Sign up for her latest classes)
Substack (craft tips, editor information, writing opportunities, early announcements and for paid subscribers special Freelance Writing Direct extended videos).
Instagram
X (formerly Twitter)
Threads
Blue Sky
New Interviews
I was also interviewed on a radio program CapeTalk for my piece on postpartum rage in Parent's Magazine. Here is the link to the radio program.
I was also interviewed for the podcast Writers' Voices: Estelle Erasmus Gives Great Advice in Writing That Gets Noticed
Writing
Don't miss my post about my participation in the Writer's Digest Conference
Don't miss my latest substack issue called Beyond Craft to Publishing Confidential where I offer an extended version of my podcast interview with Kathleen Schmidt of Publishing Confidential for paid subscribers.
Mentoring
I'm so honored to be a part of the Season 19 AWP Writer to Writer Mentor program. My mentee is the talented Leslie Stonebraker.
I am also a 30 minute mentor for Women's Media Group.
Events
Here are events coming up, including my next NYU Editor-on-Call event on November 15 (one of a series) with Shondaland editor, Derrik Lang.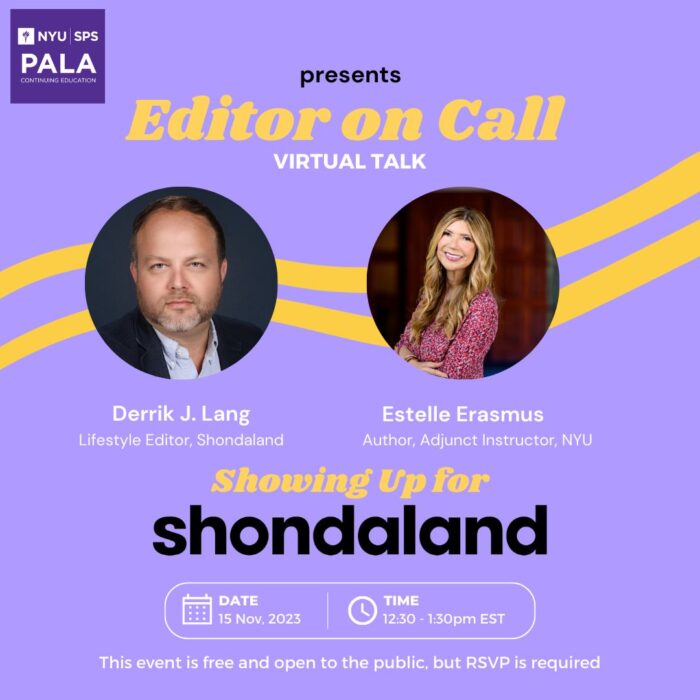 Estelle's Podcast Appearances for Writing That Gets Noticed