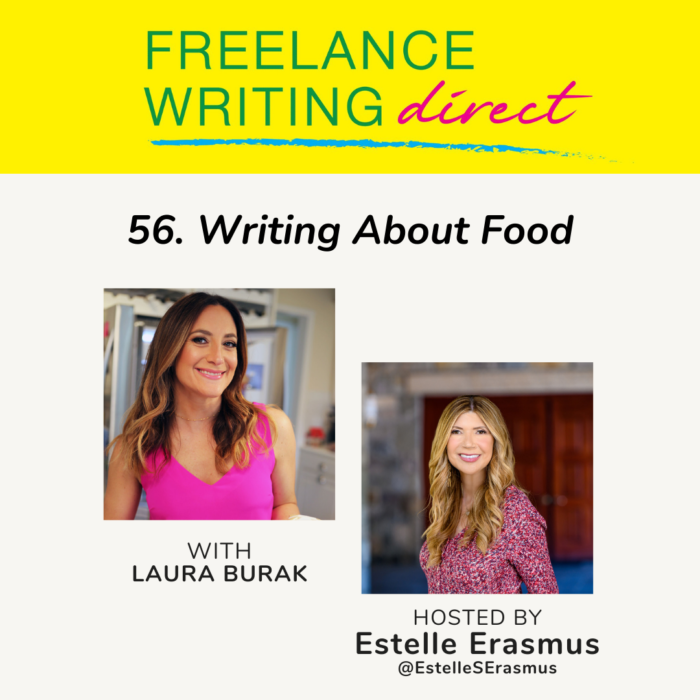 Welcome to all my new subscribers. I'm so happy that Freelance Writing Direct is now one year old! You can look at Podcasts to see all the episodes, including ones with Cheryl Strayed, Ann Hood, and assigning editors Noah Michelson, Alan Henry, and more.
Also, subscribe to my substack for craft advice and writing opportunities, and don't forget to sign up for my next NYU Editor-on-call event November 15th (more info below) where I'll be in conversation with Shondaland's Derrik Lang. Also, see below for the two (!) articles Minda Zetlin (Career Self-Care) wrote after speaking with me for Inc. Magazine.
Now, on to this episode:
I met Laura on Instagram, and was impressed with her no nonsense way of communicating important information about health and nutrition to her followers i. She is a registered dietitian, and not only talks about food and nutrition, she is also a prolific writer on the subject, with the goal of helping her audience and readers make good choices. What she does in that realm is a lot like what I do when I talk or teach about writing and publishing. For those reasons, I knew I'd love to have her on the podcast.
In This Episode 
Laura's expertise writing about food [2:43]

Writing and interviewing in short sound bites [17:14]

Working with editors [5:33]

Tips for writing reader-friendly, inspirational stories [4:24]

How to become the go-to expert in your industry or niche [11:46]

Trendspotting to excel at writing and publishing [23:45]
Watch on YouTube
About Laura
Laura Burak is a nationally recognized registered dietitian of over 20 years, a media spokesperson, published author, and freelance writer and recipe developer. Laura founded GetNaked® Nutrition with a mission to teach you how to ditch serial dieting and strip down to the simplicity of food and nutrition while also finding joy and pleasure from it, including lots of fun snacks and food finds.
Although the majority of her time has been spent working in hospital and private practice settings, Laura has been an adjunct professor at NYU, frequently contributes to media outlets and is the founder of the online community and course GetNaked Prep School. Her most recent publication is a health and recipe book entitled Slim Down with Smoothies. Laura sits on the medical expert board for Eat This, Not That and is an ambassador for The Nutritious Life Studio. Most significantly, Laura is a mom to two kids who love to challenge her encouragement of green foods and lives in the Long Island suburbs outside the city.
Laura keeps it realer than real when it comes to the craziness of your busy life and strives to create a positive, comfortable environment to discuss what can sometimes feel like daunting and sensitive topics.   
Connect with Laura
Connect with Estelle
Her website: (sign up for her newsletter and receive her pitching guide).
Writing That Gets Noticed: Find Your Voice, Become a Better Storyteller, Get Published: Available wherever books are sold
Adjunct Instructor, NYU (Sign up for her latest classes)
Substack (craft tips, editor information, writing opportunities, early announcements and for paid subscribers special Freelance Writing Direct extended videos).
Instagram
X (formerly Twitter)
Threads
Blue Sky
Estelle's Freelance Writing Direct  interview on Getting the Sound Bites with  Dr. Sheryl Ziegler
New Interviews
I love these interviews of me in Inc. by fellow New World Author Minda Zetlin (Career Self-Care)
17 Small Changes that Will Make Your Writing Irresistable, According to an NYU Writing Professor. 
Here's How Smart People Use the Empathy Rule to Make Sure Their Emails Get Read
I was also interviewed on a radio program CapeTalk for my piece on postpartum rage in Parent's Magazine. Here is the link to the radio program. Here is the link to my piece on postpartum rage.
I was also interviewed for the podcast Writers' Voices: Estelle Erasmus Gives Great Advice in Writing That Gets Noticed
Writing
Don't miss my post about my participation in the Writer's Digest Conference
Don't miss my latest substack issue called Beyond Craft to Publishing Confidential where I offer an extended version of my podcast interview with Kathleen Schmidt of Publishing Confidential for paid subscribers.
Mentoring
I'm so honored to be a part of the Season 19 AWP Writer to Writer Mentor program. My mentee is the talented Leslie Stonebraker.
I am also a 30 minute mentor for Women's Media Group.
Events
Here are events coming up, including my next NYU Editor-on-Call event on November 15 (one of a series) with Shondaland editor, Derrik Lang.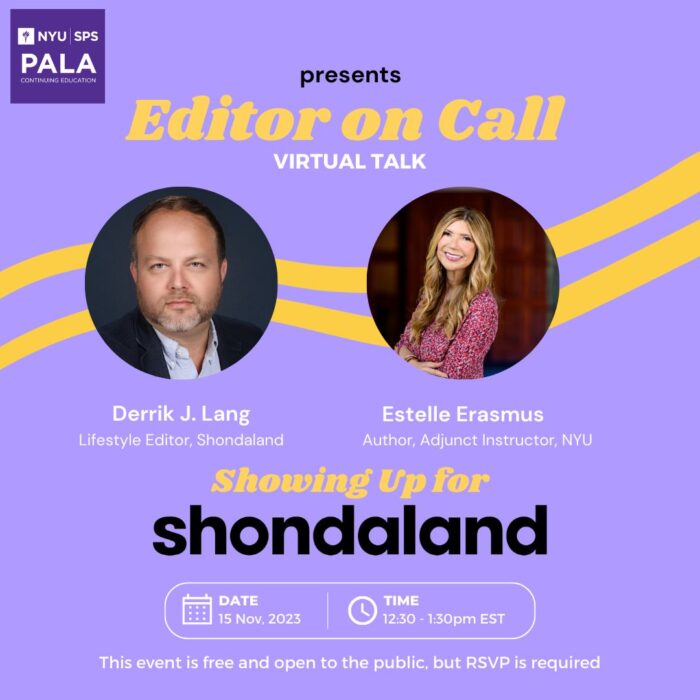 Estelle's Podcast Appearances for Writing That Gets Noticed