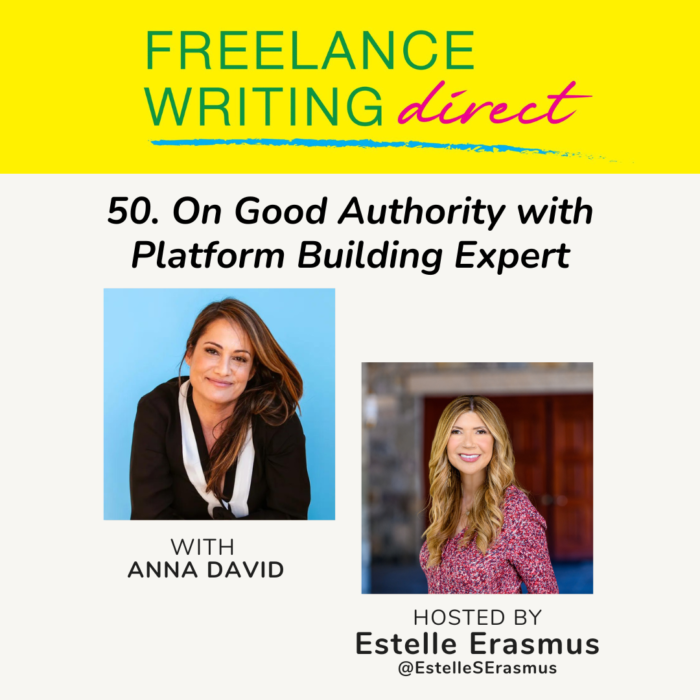 I first met Anna David when she reached out on social media to her followers to set up a launch team. Intrigued with what she did and HOW she did it, I happily agreed to be a part of the team, and emailed her to tell her who I was, where I taught and that I had a podcast, too.
Anna got back to me, and we bonded with our mutual background in traditional media. I love that she did a mini coaching session with me in this episode, which also covers:
*How Anna came up with the topic of her book [4:09]
*Using your book cover to promote your book and your business [11:39]
*A site that you can use to grow your authority [10:34]
*Using your team to get the word out [7:39]
*How speaking about your book can become lucrative, and where to start [23:35]
*Anna's best tips for marketing yourself as an expert [23:37]
Watch on YouTube
About Anna David
Anna David is the New York Times bestselling author of eight books and founder of Legacy Launch Pad Publishing. She's been published in the New York Times, Time, LA Times, Vanity Fair, Playboy, Vice, Cosmo, The Huffington Post, Buzzfeed and Salon, among many others, written about in Forbes, Martha Stewart Living, Entrepreneur, Allure and Women's Health and has appeared repeatedly on Today, The Talk, Good Morning America and numerous other programs. A featured speaker at three different TedX events, Anna hosts a hit publishing podcast that has featured interviews with authors such as Robert Greene and Chris Voss. Her first book, Party Girl, is in development as a film tentatively scheduled to be shot in 2023.
Connect with Anna 
Estelle's Episode on Legacy LaunchPad Pub: Getting Articles Published and Landing an Agent
Connect with Estelle
Her website: (sign up for her newsletter and receive her pitching guide).Writing That Gets Noticed: Find Your Voice, Become a Better Storyteller, Get Published: Available wherever books are sold
Adjunct Instructor, NYU (Sign up for her latest classes)
Her Substack (craft tips, editor information, writing opportunities, early announcements)
Instagram
X (formerly Twitter)
Threads
Blue Sky: @estelleserasmus.bsky.social