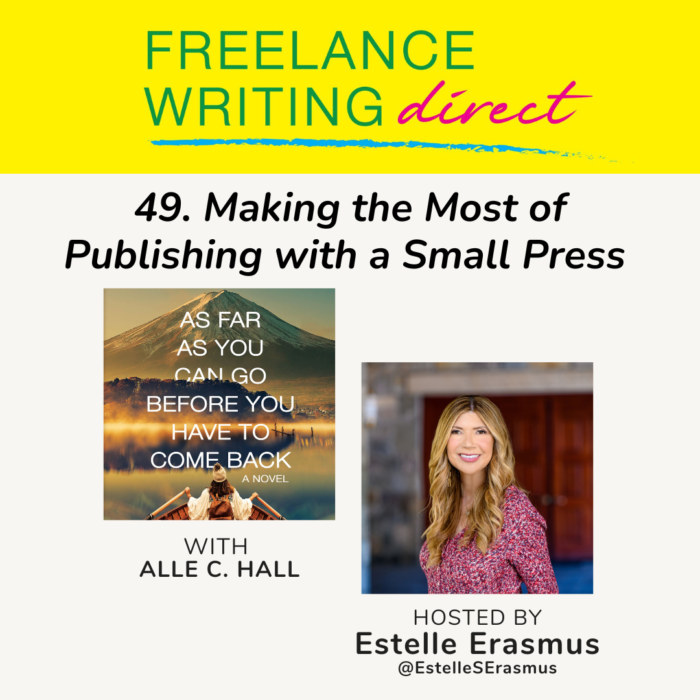 I first met Alle through online writer's groups and I was impressed at her ability to navigate a complicated press arena for her debut novel.  I think what she has to say offers such value for writers with both traditional and small presses.
CONTENT WARNING: This episode covers a novel that features a character who has gone through childhood sexual assault.
NOTE: This episode is audio only.
In this episode:
• Finding the courage to tell a personal story [3:04]
• Alle's experience of publishing with a small press [4:19]
• Working with a PR agency [19:58]
• Advice for calling independent bookstores to set up in-person events or other opportunities [8:40]
• How to get the word out about your book with help from your readers [17:40]
• Actionable tips on how to promote your book [18:57]
About Alle
Nominated for The National Book Award and The Pacific Northwest Booksellers Book Award, Alle C. Hall's debut literary novel, As Far as You Can Go Before You Have to Come Back was winning prizes before its publication, including the National League of American Pen Women's Mary Kennedy Eastham Prize. Her short stories and essays appear in journals including Dale Peck's Evergreen Review, Tupelo Quarterly, New World Writing, Litro, Creative Nonfiction, and Another Chicago. Alle lived in Asia, traveled there extensively, speaks what she calls "clunky" Japanese, and has a tai chi practice of 35 years running.
Connect with Alle:
Website
Substack 
Instagram 
Facebook 
X (Twitter) 
Alle's interview on Literary Mama
Connect with Estelle
Estelle's  2 month Zoom class for NYU:  Writing About Midlife and Beyond Through Memoir, Essays and Articles
Sign up now
Her website: (sign up for her newsletter and receive her pitching guide).
Writing That Gets Noticed: Find Your Voice, Become a Better Storyteller, Get Published: Available wherever books are sold at
Adjunct Instructor, NYU (Sign up for her latest classes)
Her Substack
Instagram
X (formerly Twitter)
Threads
Blue Sky: @estelleserasmus.bsky.social