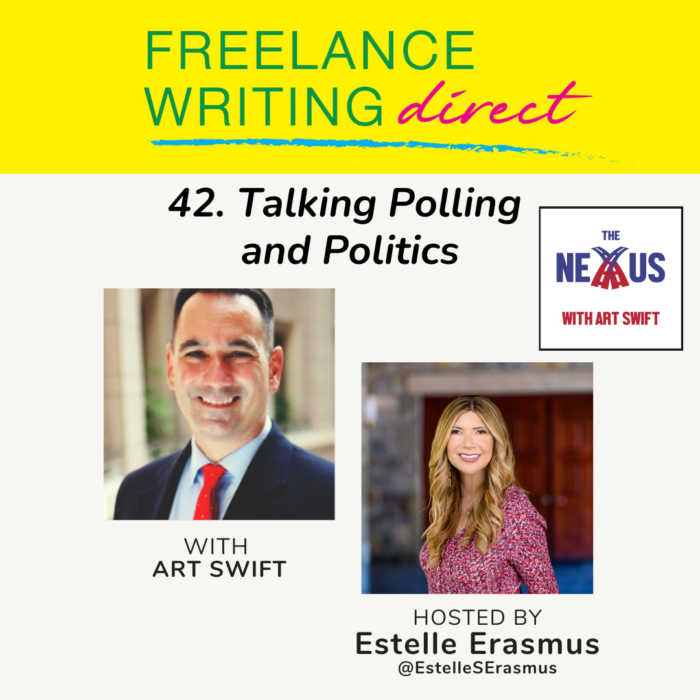 I was delighted to speak with Professor Art Swift all about politics and polling and data. I think it is such an important aspect of research and writing and cover it extensively in my book.
Show Summary
In this episode:
• The importance of data to tell stories
• Art's experience of working with journalists who need data
• Tips on how journalists can make sure that the data they are using is accurate
• How journalists should be doing their due diligence before using data
• Why Art started his podcast and why he decided to cover deep dive topics
• Tips on interviewing
See Episode on YouTube
About Art Swift
Art Swift has been teaching at AU since 2015 and is a Senior Adjunct Professorial Lecturer. He is Chief Communications Officer for the Department of Insurance, Securities and Banking in the Government of the District of Columbia. Previously he was the Managing Director of Corporate Communications at Agility, a global logistics company. He has also been the Chief of Content and Executive Editor at Gallup. Prior to Gallup he was a producer and reporter at ABC News and served as an officer in the United States Marine Corps. Swift also guest lectures at America House Kyiv, where he trains young Ukrainian leaders. Swift holds degrees in American History and Journalism from Columbia University.
Connect with Art
LinkedIn
The Nexus Podcast
Twitter/X
The article mentioned where Estelle interviews Art: Friends, Fleetwood Mac, and the Viral Comfort of Nostalgia/WIRED
Estelle's episode on The Nexus — The Enticing World of Nostalgia
Connect with Estelle
Her website: (sign up for her newsletter and receive her writing guide).
Writing That Gets Noticed: Find Your Voice, Become a Better Storyteller, Get Published: Available wherever books are sold
Her Substack (with pitch calls and an interview with an editor from The New York Times)
Blue Sky: @estelleserasmus.bsky.social