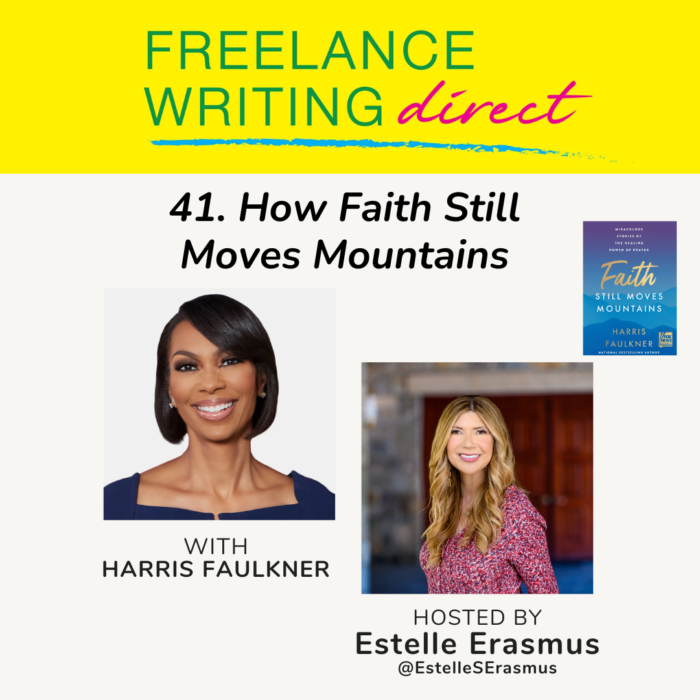 I was so thrilled to sit down with Harris Faulkner to discuss the impact of prayer and her bestselling book Faith Still Moves Mountains.
Show Summary
In this episode:
• How Harris told the stories of others through the power of prayer
• The power of prayer to change lives
• Learning from others and how that can influence your writing
• Tips on keeping the reader in mind while writing
• Harris's tips on being a master interviewer
About Harris Faulkner
Harris Faulkner is a multiple Emmy award-winning anchor. Faulkner currently anchors two daily daytime programs – The Faulkner Focus (weekdays, 11AM-12PM/ET) and serves as the co-anchor of Outnumbered (weekdays, 12-1PM/ET).
Following Faulkner's breaking news coverage in 2020 and serving as the only Black woman to anchor two back-to-back cable news programs, Faulkner was named to WORTH Magazine's "Groundbreakers" list which honors 50 influential women worldwide for breaking barriers in their industries.  In May 2021, Faulkner was honored by Variety's New York Women's Impact Report.
In November 2022, Faulkner published FOX News Books' fifth title "Faith Still Moves Mountains: Miraculous Stories of the Healing Power of Prayer." Notably, the book debuted at number one on the New York Times' Advice, How-To & Miscellaneous bestseller list.
Faulkner also is the author of "9 Rules of Engagement: A Military Brat's Guide to Life and Success." In her book, Faulkner shares the lessons she learned growing up in a military family while paying homage to the military ideals that shaped her and showing how everyone can benefit from bringing the wisdom of military service into their lives.
Outside of her work as a journalist, Faulkner is a motivational speaker, writer, and philanthropist.
Watch on YouTube
Connect with Harris:
Connect with Estelle
Adjunct Instructor, NYU: Writing About Midlife and Beyond Through Memoir, Essays and Articles(space is limited for this 2 month Zoom class). Sign up now for class in September. 
Her website: (sign up for her newsletter and receive her writing guide).
Writing That Gets Noticed: Find Your Voice, Become a Better Storyteller, Get Published: Available wherever books are sold
Her Substack (with pitch calls and an interview with an editor from The New York Times)
Blue Sky: @estelleserasmus.bsky.social