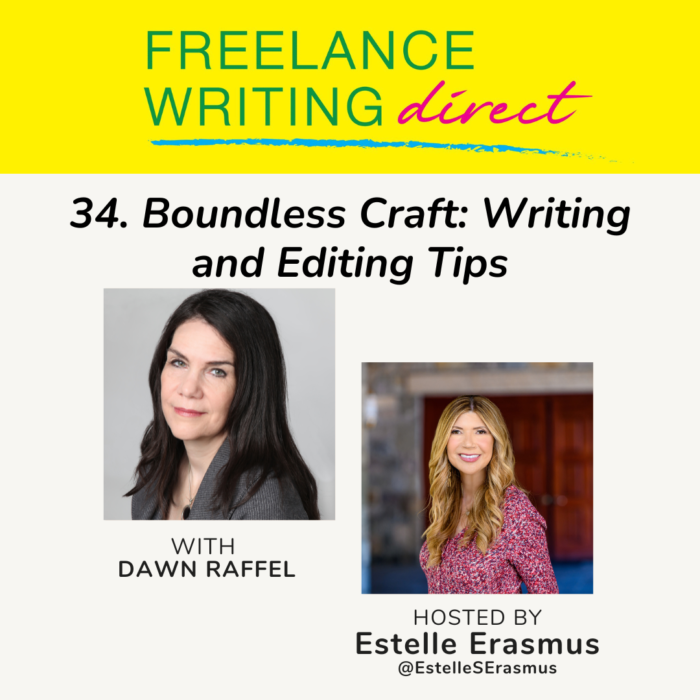 I met Dawn several years ago through a local writer's group. It was so nice to find another woman from traditional media, like myself. We connected and stayed in touch and I was thrilled when she was on my panel for last year's AWP conference. Naturally, I wanted to share her writing and editing tips for the podcast.
Show Summary
In this episode:
• How to become a better writer when you have little time to focus on writing
• Tips on writing a big story with lots of resources.
• Putting together a system for researching stories for books
• Finding a structure in longer pieces
• Writing a Diptych
• Actionable tips about writing
• Dawn's best tips for self editing
• What writing teachers need to provide their students
About Dawn
Dawn Raffel's sixth book, Boundless as the Sky, is just out. In a starred advance review, Publishers Weekly wrote, "Raffel draws inspiration from Italo Calvino's Invisible Cities and the history of Chicago's 1933 World's Fair for this sublime collection…. This is one to savor."
Her previous book, The Strange Case of Dr. Couney, was chosen as one of NPR's best books of 2018 and awarded a Christopher Award for books that affirm the highest values of the human spirit. Previous books include a memoir,  a novel, and two story collections. Her writing has appeared in O, The Oprah Magazine, BOMB, New Philosopher, The San Francisco Chronicle, Conjunctions,  Open City, The Anchor Book of New American Short Stories and numerous other periodicals and anthologies.  Following a long run as a senior-level magazine editor, she is now the fiction editor of the Northwest Review and works as an independent editor for individuals and creative organizations. She teaches at the Center for Fiction and International Literary Seminars,  and serves as a mentor at the Association of Writers and Writing Programs.
Connect with Dawn
Website
Instagram
Boundless as the Sky
The Strange Case of Dr. Couney
Connect with Estelle:
Adjunct Instructor, NYU: Writing About Midlife and Beyond Through Memoir, Essays and Articles (space is limited for this 2 month Zoom class). Sign up now for class in September. 
Her website: (sign up for her newsletter and receive her writing guide).
Writing That Gets Noticed: Find Your Voice, Become a Better Storyteller, Get Published: Available wherever books are sold
Her Substack (with pitch calls and an interview with an editor from The New York Times)
Blue Sky: @estelleserasmus.bsky.social