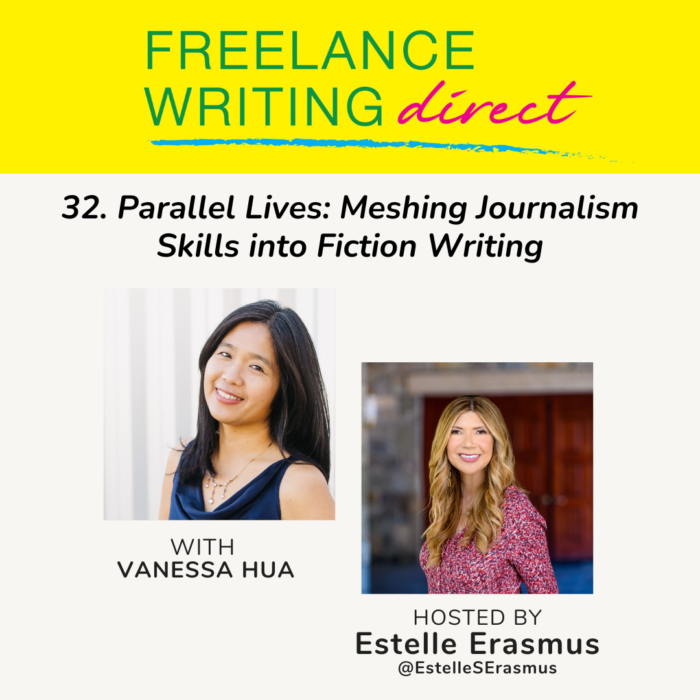 I met Vanessa several years ago when I tapped her to be the keynote speaker at the 2017 ASJA Conference that I was chairing. She offered a wonderful presentation on the importance of setting in writing.  We kept in touch, and when I visited her home town in 2018, she took me to lunch and gave me the intel on what to see, do, and eat. In 2022, my panel on Writing for Consumer Pubs Through a Literary Lens was accepted for the AWP conference in Seattle, and Vanessa was one of my esteemed panelists. She also wrote a beautiful blurb for my book. Vanessa is a true literary citizen and writing teacher who sets a great example of someone who is immersed in the very fabric of publishing. I was thrilled to have her on the show.
In this episode:
• How Vanessa meshes her journalism background into her fiction writing
• Tips for building scenes in your writing
• Pantser or Plotter: Which is she?
• How Vanessa has shifted genres throughout her career
About Vanessa
Vanessa Hua is the author of the national bestsellers A River of Stars and Forbidden City, as well as Deceit and Other Possibilities, a New York Times Editors Pick. A National Endowment for the Arts Literature Fellow, she has also received a Rona Jaffe Foundation Writers' Award, the Asian/Pacific American Award for Literature, and a Steinbeck Fellowship in Creative Writing, as well as awards from the Society of Professional Journalists, the Asian American Journalists Association, among others. A former longtime columnist for the San Francisco Chronicle, her work has appeared in publications including the New York Times, Washington Post, and The Atlantic. She is a Visiting Writer at Saint Mary's College of California, and has taught at the Warren Wilson MFA Program, Sewanee Writers Conference, and elsewhere. The daughter of Chinese immigrants, she lives in the San Francisco Bay Area with her family.
Connect with Vanessa
Connect with Estelle
Her website: (sign up for her newsletter and receive her pitching guide).Writing That Gets Noticed: Find Your Voice, Become a Better Storyteller, Get Published: Available wherever books are sold
Adjunct Instructor, NYU (Sign up for her latest classes)
Her Substack (craft tips, editor information, writing opportunities, early announcements)
Instagram
X (formerly Twitter)
Threads
Blue Sky: @estelleserasmus.bsky.social