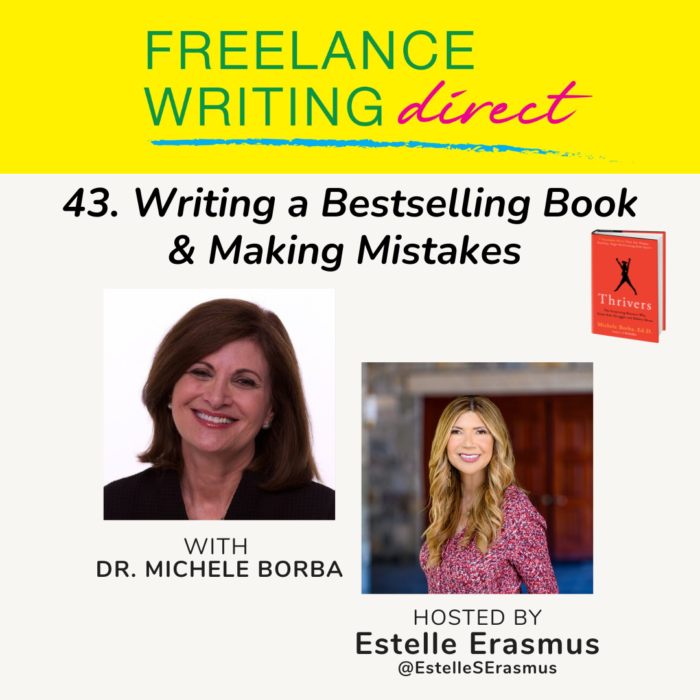 Show Summary:
When I spoke with Michele Borba, she offered candid advice on writing books so you don't mess up, like she once did, despite writing bestsellers.
In this episode:
Mistakes that Dr. Borba made when getting into writing and publishing, and what she learned so you don't have to [3:31]
The best process for writing a book proposal [4:06]
Dr. Borba's writing process for 24 books [6:30]
How to write tight, while keeping your voice [11:39, 14:54]
Discovering your own writing style [13:36]
Ways to make your writing sing [14:05]
Advice on using and finding credible research for your writing. [23:08]
Check out the episode on YouTube
Dr. Michele Borba is an internationally renowned educator, award-winning author and parenting and child expert recognized for her solution-based strategies to strengthen children's resilience, social-emotional intelligence and character and reduce peer cruelty.
She is the award-winning author of 25 books translated into 21 languages, including her new book, Thrivers: The Surprising Reasons Why Some Kids Struggle and Others Shine as well as Nobody Likes Me, No More Misbehavin', Don't Give Me That Attitude!, Building Moral Intelligence, Parents Do Make a Difference, The Big Book of Parenting Solutions, End Peer Cruelty, Build Empathy, and UnSelfie: Why Empathetic Kids Succeed in Our All-About-Me World.
Dr. Borba is an NBC contributor who has appeared 150 times on the TODAY show and countless other shows, including three Dateline specials, Dr. Phil, The View, NBC Nightly News, The Doctors, Dr. Oz, Anderson Cooper, three NBC Education Nation specials, Fox and CNN. Her work is featured in TIME, The Washington Post, Newsweek, People, The Boston Globe, U.S. News & World Report, The New York Times, Reader's Digest and The Globe and Mail. She's a media spokesperson for major corporations, including 3M, Office Depot, Fisher-Price, Unilever, Mattel, General Mills, Mastercard, All, Galderma, V-Tech, Cetaphil, Splenda, Hershey, KidStrong, Walmart, and Johnson & Johnson. She also served as a consultant to McDonald's, Disney, Apple TV's  series, 'Get Rolling with Otis' and Learning Curve's "Caring Corner Mrs. Goodbee Dollhouse."
She lives in Palm Springs with her husband and has three grown sons.
Connect with Dr. Michele Borba: