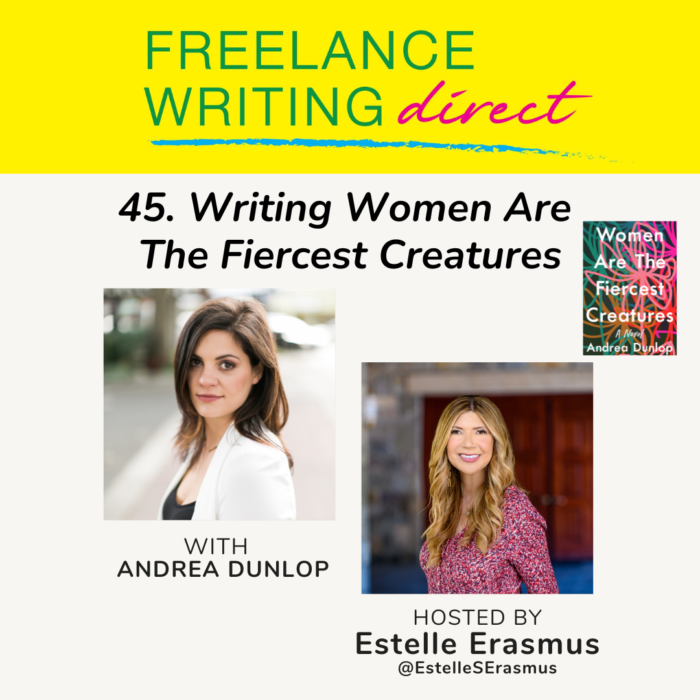 Show Summary:
In this episode I speak with Andrea Dunlop, novelist and author of Zibby Books' Women are the Fiercest Creatures about creative writing process, writing in multiple POVs, writing strong female characters, and tips for writing and structuring story.
In this episode:
The ongoing theme of motherhood in her writing [2:20]
What effect podcasting has had on Andrea's storytelling [4:04]
Writing strong woman protagonists [5:51]
Advice for writing through the lens of different characters and incorporating multiple POVs in your story [10:51]
How to keep from repeating a story in a tight timeline [13:10]
Tips on making sure not to bore the reader [14:27]
Andrea's writing practice [15:27]
Check out the episode on YouTube:
Andrea Dunlop is the author of five books including WE CAME HERE TO FORGET (Atria/ Simon & Schuster; 2019), and a true crime account forthcoming from St. Martin's in 2024. She is the host and creator of Nobody Should Believe Me, a true crime podcast from Larj Media (October 2022) that explores Munchausen by Proxy from the intimate lens of a family member.
In addition to her work as an author and podcaster, she is a member of the American Professional Society on the Abuse of Children's Munchausen by Proxy Committee and is the co-creator of Munchausen Support, an online resource and 501 c 3 that supports survivors, families, and professionals dealing with MBP. She lives in Seattle with her husband and two children.
Connect with Andrea:
More: