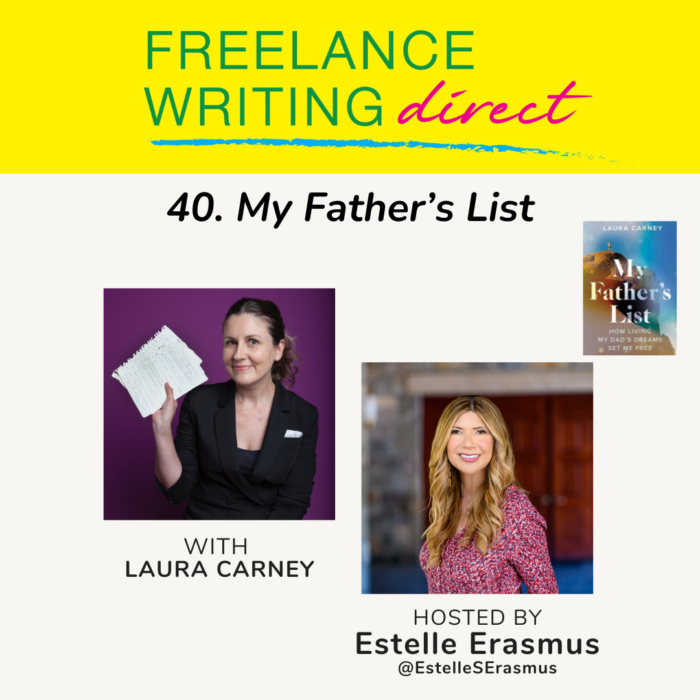 I loved speaking with Laura Carney about the genesis of her book and the impact of her father's list on her life, plus how her writing practice evolved.
Story Summary
In this episode:
• The genesis of Laura's book about fulfilling her father's bucket list
• The art of detailing an emotional journey in a book
• Finding the spiritual throughline in a story
• Building a publicity machine
• Giving yourself grace during the writing process
• Laura's actionable tips for new authors
Watch on YouTube
About Laura
Laura Carney is a writer and copy editor in New York. She's been published by the Washington Post, the Associated Press, The Hill, Runner's World, People magazine, Guideposts, Good Housekeeping, The Fix, Upworthy, Maria Shriver's Sunday Paper and other places, and her book My Father's List: How Living My Dad's Dreams Set Me Free is being published by Post Hill Press in June 2023. Her work as a copy editor has been primarily in magazines, for 20 years, including Good Housekeeping, People, Guideposts, Vanity Fair, and GQ.
Connect with Laura
Connect with Estelle
Writing That Gets Noticed: Find Your Voice, Become a Better Storyteller, Get Published: Available wherever books are sold at
Adjunct Instructor, NYU (Sign up for my latest classes)
Recipient 2023 NYU SPS Teaching Excellence Award
Sign up for my newsletter
Sign up for my substack
Instagram
Blue Sky: @estelleserasmus.bsky.social