By Estelle Erasmus
I met DJ Paris of the blog Thoughts from Paris, at BlogU when I spoke there last June.  He was teaching a Podcast session, right before mine. He attended my session, we chatted afterward and we've since kept in touch. His podcast session was so informative.
I was thrilled when he invited me to be a guest on his very popular podcast. We spoke about my background in traditional publishing, how I moved to digital, my experience with Listen to Your Mother, the conferences I'm speaking at, my editing/writing coaching business and my thoughts on writing the perfect essay.
I start off the podcast by reading a piece I wrote for The Washington Post On Parenting.
Here is the link to the show.
A Couple of Other Cool Things
I love this one: I got into the Guinness Book of World Records 2016 when I rode a Segway  (with Kevin James) and company, courtesy of The Moms. We did a full 360 degree turn-with over 100 people–the largest ever amount of people to do it. I'm fourth from the right (with my mouth open, you can't miss me).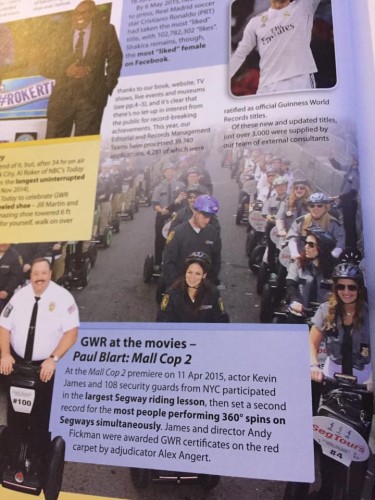 Yvonne Spence wrote a lovely review of Mothering Through the Darkness, the HerStories Project book that I have an essay in called "The Savage Song of My Birthright Blues," where I write about my antipartum depression (depression during pregnancy). I am so honored that she says how much she enjoyed my essay.
That's why we write, right? To connect with and resonate for our readers.
I'm you'd like to order the book, get it here.
What podcasts do you like to listen to?
Check out My Facebook Author Page and also find me on Twitter