And don't forget I am teaching a course on writing personal essays with Writer's Digest, starting this month. Sign up now and get published!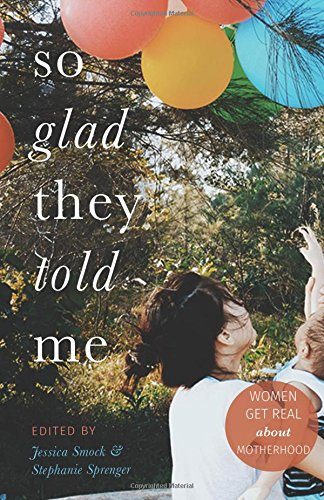 By Estelle Erasmus
Motherhood is messy. Motherhood is happiness and depression and anxiety and hope for the future for your child all mixed up in your mind and heart.
It's not a fairytale. It is real.
In So Glad They Told Me: Women Get Real About Motherhood by Stephanie Sprenger and Jessica Smock, 60 writers get real by sharing their stories of motherhood in all its phases and stages. From postpartum depression, to surviving the first year of parenthood to empty nesting. From toddlers to teens this book covers the gamut of emotions and experiences from women who have been there.
Entering motherhood is probably one of the hardest things that you will ever do. You are no longer responsible for yourself; you now have someone of your own to look after. And this can cause a lot of unwanted and different emotions, maybe some that you have never experienced before. When they are first born, you may be overwhelmed with depression, and when they're older, you may have the constant worry of them doing well in school and coming home by curfew, so you know they're safe.
And it can be hard to find a way to cope with this new chapter in your life. Some people may find solace in speaking about their depression with a counsellor, some may try an alternative form of medication like CBD oil. Some people – in countries where it is legal – use marijuana as a way of dealing with their depression, as it has been found to alleviate the symptoms of depression. Depending on where you live, you may even be able to grow your own. Here are some helpful details from i49 regarding growing your own. Others, more simply, may turn to this book for guidance on how to cope with depression but also becoming a mother. It helps to know that you're not in this alone.
The book was Inspired by the viral essay and #SoGladTheyToldMe social media movement. According to the authors the book "aims to change conversations about motherhood by presenting a broader, more realistic, and more balanced image of motherhood so that women will feel less inadequate, adversarial, and isolated."
I enjoyed reading the book and related to many of the early passages (postpartum depression, sleep difficulties, sex during pregnancy, toddler phases and having only one child). I felt as if I were talking to a close girlfriend with each turn of the page.
Amy Joyce, the editor of the On Parenting blog on the Washington Post, where I have written regularly, wrote the following review.
"With beautiful, funny, smart essays, this is a treasure full of voice, guidance, and best of all, quiet support for all of us. Because despite all of the love that goes into it, what mother hasn't felt alone in the midst of the wonders of this role? The more voices of support for one another, the better." – Amy Joyce, the Washington Post
Get the book here on amazon, as a gift for a new mom, or for any mom.
You'll be so glad I told you!
Follow me on Twitter and Facebook for more great posts and news.
Also, check out my piece for Zwivel.com on Why There Are So Few Female Plastic Surgeons
And my piece for Next Avenue/PBS on 6 Steps to Reinvent Yourself After a Life Change