By Estelle Erasmus
Watching/Reading about Angry Birds
I love seeing new movies with my daughter (and reading books with her). And the Angry Birds Movie was top on our list. That's why I was thrilled to attend a screening recently courtesy of the kind ladies at KidzVuz.
The fabulous story of Red's travails with the Pigs and how he tried to find the stolen eggs is entertaining, with moments of true poignancy. His fellow adventurers, include the birds Chuck and Bomb.
Does Red remain angry? You'll have to watch the movie to see. My daughter loved it so much that she saw it again with her dad (in 3D this time) when I was at the American Society of Journalists & Authors conference in NYC, last weekend (post coming soon with lots of publishing advice).
For more info on the movie go to Angry Birds Movie or follow their exploits on Facebook or Twitter #AngryBirdsMovie
I am finishing up my second year as a National Geographic Kids Insider, and recently received the cutest books on Angry Birds, plus the coolest angry birds eyebrows ever.
To get your Angry Birds Books click here.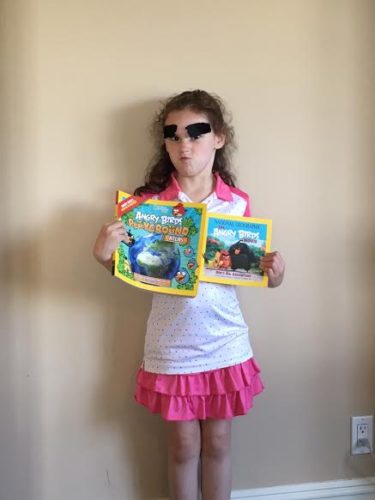 Here is more info on the books.

Going Crazy for Crazy 8
Another cool thing that National Geographic Kids introduced me to is Crazy 8, a children's clothing brand that makes fun, fashion-forward clothes for children ages 6 months to 14 years old.
Now, Crazy 8 has teamed up with National Geographic to bring 8 of their Weird But True" (WBT) facts to life, and the T-shirts are available at Crazy8.com and Crazy 8 stores nationwide, starting June 3. So get yours now. We received the Porcupine one, and it is adorable.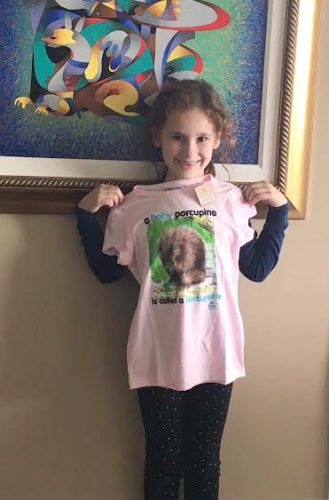 To order your WBT books, click here.
If you purchase one of the WBT T-shirts in the store, you will get a free "WBT" Fact Pack.
GIVEAWAY
I'm giving away a $25 Crazy 8 gift card, and a "Weird But True" Fact Pack to my readers. Tell me what is your favorite WBT T-shirt? Also, check out Crazy8.com for more great styles.
Disclosure: I received a gift card and T-shirt for this campaign. All opinions are my own.
Follow me on Facebook and Twitter .