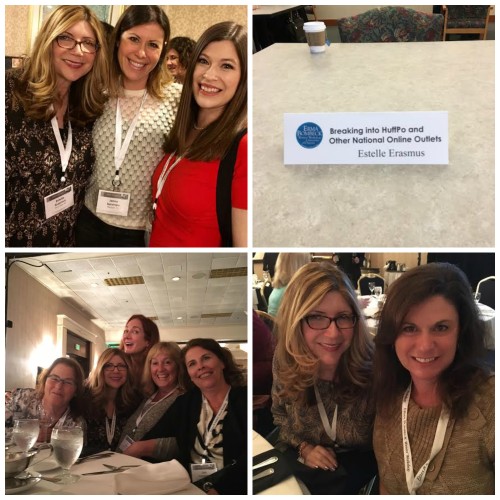 By Estelle Erasmus
I recently returned from the Erma Bombeck Writer's Conference (#2016EBWW). It was a wonderful event, and I really enjoyed the people, the panels and being invited to head up the speed dating session for writers wanting to be published in national online sites.  I am working on a post with some of the best tips I heard at the conference. In the meantime I figured I'd start with a few of my own nuggets.
But first, I want to address the purpose of this blog, which has evolved since I started it in 2012. Originally, I was focused on parenting talk, but as my daughter has grown, so have I.  After receiving multiple requests, I have decided that I would be refocusing on (mostly) publishing advice, tips for writers (editing tips and tricks on how to craft your essays and get published).  So, if you haven't already,  sign up for my newsletter to get this information in your in-box. 
Let's start with Erma: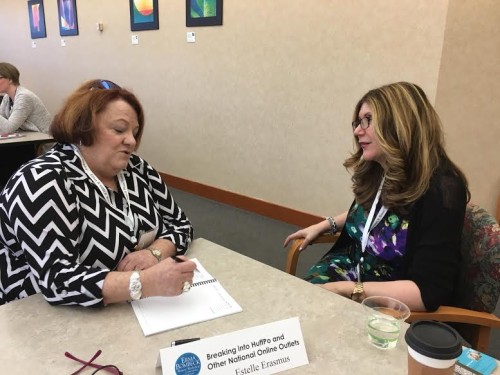 In my speed dating for writer's  session, Breaking into HuffPo and Other National Online Outlets, I spent five minutes each with nine writers. The writers who were randomly selected to participate had a choice of three five-minute sessions in various categories. In my time with them, I reviewed their clips, prompted them to share their goals,  and based on what they told me provided them with tips, including the following:
Choose Your Niche: Decide what your niche is? Are you writing about midlife? Aging? Humor? Parenting? What do you most want to be writing about? Do a google search for websites/publications in your niche.
Platform Building 101: If you are trying to build a platform, and not looking to get paid, try to get on to the Huffington Post as a blogger. If you get on, they will set you up with your own backdoor access. Here is an article I wrote about it. You can also email Arianna herself, at Arianna@huffingtonpost.com. Just don't say I sent you.
Get Syndicated: Try these great places to get your previously published work syndicated. You can find submitting information on the site (in many cases these fit into several categories, but I just posted under the main one, so it is worth checking out the sites thoroughly): Parenting: Scary Mommy, Mom Babble, Babble, Role/Reboot, Working Mother, Sammiches & Psych Meds, SheKnows, BonBon Break, Blunt Moms Health/Aging The Mighty, Midlife Boulevard, Better After 50  Social Media: The SITS Girls, BlogHer, Project Eve. Love/Relationships: YourTango. You can also find information in all categories on Beyond Your Blog. You can also apply to be a contributor at What the Flicka?  Let me know if there are sites I missed–I will update accordingly.
Find Editors on Twitter: You can go to the search bar and search for Editors, by putting in "editors from BlogHer" for example.  You can also search via the search tool in Linkedin.
Stay tuned for an update on Erma and some of the other pearls of wisdom gleaned there.  And, you can also check out my writing/editing coaching services, and see why my clients call me "publishing on steroids."
If you like this…