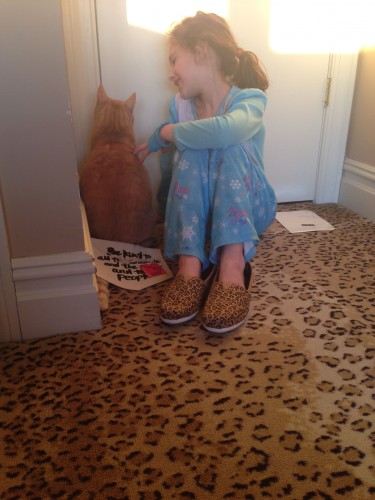 By Estelle Erasmus
I love writing for The Washington Post. For my latest piece, I had the assignment to follow up on the goals I set for myself last year in the piece My Child is Out of Control.  This piece is titled My Child is Still Out of Control and I grade myself on how I did (and how she did).
Last year I wrote about my parenting mishaps with my then-five-year old, now nearly seven-year -old daughter and how I'd fix them in 2015.
Since then I've had people reach out to me from as far as Australia–where we have relatives– to tell me 'you're a horrible parent' or 'relax this phase will pass' or 'don't worry, her behavior will get even worse when she's a teenager.' I received a lot of support, and not a little advice.
Well, the start to the New Year is swiftly retreating in my rear view mirror of regrets. So now I'm taking stock. Did I do what I said I would last year? Let's tally the results, shall we?
Did I "Give Myself a Moratorium on Meltdowns"?
Although I still stew when getting cut-off at drop-off, I have managed to maintain my composure. I think that's especially due to witnessing a frightening almost-come-to-hair-pulling, melee between two frustrated moms at my girl's school. I have tapered off on the road rage, and have kept other grievances to myself. For example, when the phone company put me on hold, instead of screaming, I turned on the speakerphone while I addressed holiday cards. My daughter has been modeling my behavior and appears to be more emotionally resilient than last year. She does have her moments though, because well, she's a child. But please tell me why she gets annoyed when I refuse to carry her "heavy" book bag for her, which contains all of a snack, a folder, and a pair of gloves?
My Grade: A
Her Grade: A-
What about 'Cutting Out Cutting Phrases'?
I have been working hard on taming this behavior. I admit, I have called her bratty a few times when she misbehaved but the difference is that now I am very conscious of when I say it. She doesn't know enough to make cutting remarks back to me, but is starting to understand what bad words are, and has mentioned them to me to see my reaction (thanks neighbor who just freaked out over a fender bender). I've told her not to say those words and she's not using them…yet.
My Grade: B
Her Grade: Not Applicable. Yet.
Read more here on The Washington Post
If you like that follow me on Facebook and Twitter
And check out my publishing tips
COMMENTS ARE CLOSED