I like to try new things, so I'm going to try giving my fave essays, products and books a shout out on this page each Sunday or Monday.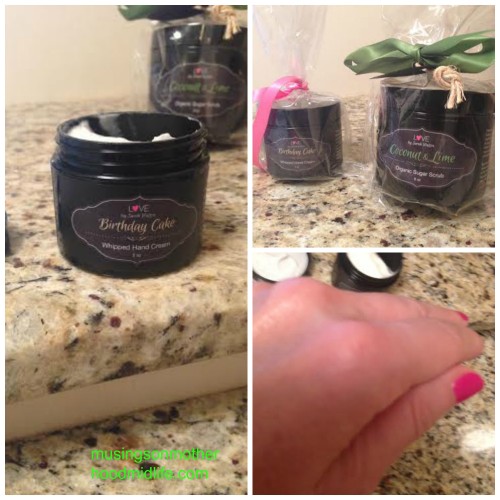 By Estelle Erasmus
If you are like me the change in seasons does a number on your hands. That's why I was delighted to try the Birthday Cake Hand Cream by Love By SW when she sent me a sample. I loved it and couldn't wait to share it with you.
It smells like a birthday cake in a jar, but without the mess. The ingredients are truly mouthwatering: a dose of shea butter, coconut oil and sweet almond oil.
Added bonus: Instead of feeling heavy and sticky, the cream was so light and airy that it glossed my skin, imparting a subtle sheen that I tried to show in the picture above.
I love this hand cream (which is totally worth its $15 price tag) as well as all the rest of her products because they are all natural and made by love– Love By SW.
They arel:
Gluten-free
Vegan: Completely cruelty free, and no animal products are used.
Organic Ingredients
Made by Hand
All Jars are made with 100% post-consumer plastic
Other fun (delicious smelling) natural options to try  include Pumpkin Body Butter and Pumpkin Sugar Scrub (made with organic pumpkin seed oil and only available during the months of October and November).
You can also try Meg's Cotton Candy and Coconut and Lime Sugar Scrub and Luscious Lemon Hand Cream,
She also offers a Holiday Gift Set of Whipped Peppermint, Orange with Frankincense & Myrrh and Vanilla. All creams can be purchased separately, or together.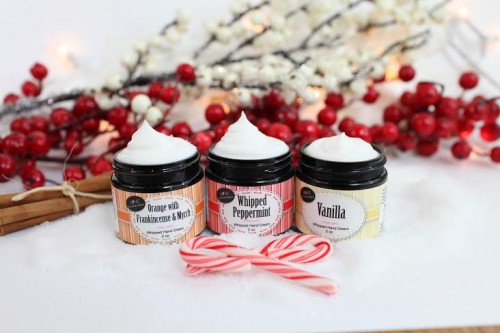 Yay! I know what I'm getting my friends and family for the Holidays!
Disclosure: I received a sample of the hand cream, but all opinions here are my own.
What you might have missed last month
I wrote about why I didn't like people touching my belly when I was pregnant for The Washington Post (in print, too)
I wrote about my family connection to Julie Andrews for SheKnows
I've ramped up my writing/editing coaching business and have celebrated some successes with my clients