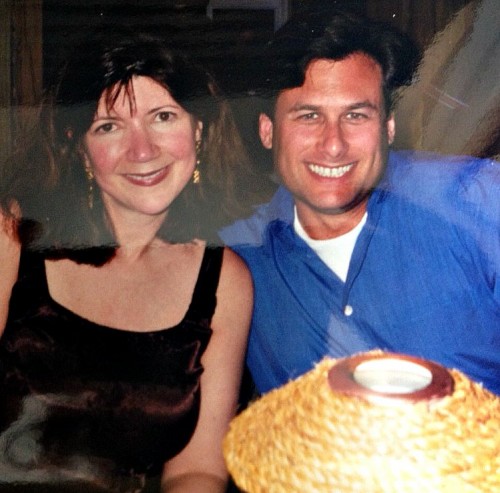 By Estelle Erasmus
Before I was the editor-in-chief of five magazines, I was a beauty editor at Woman's World magazine and co-author of the award-winning book Beautiful Skin: Every Woman's Guide to Looking Her Best at Any Age (Adams Media). I acquired the skin condition rosacea, as a result of testing the early version of glycolic acid products. I wrote about it for Yahoo! Beauty this week.
As the co-author of Beautiful Skin: Every Woman's Guide to Looking Her Best at Any Age, and a former beauty editor, having gorgeous skin is part of my job. I have reported on hundreds of beauty potions, lotions, and treatments, happily being the guinea pig. Try on a dozen tubes of lipstick and document how long lasting they were? I'm on it. Apply self-tanners on my legs to find the ones that best got me to (fake) sun-kissed perfection? Sign me up.
One week the assignment was to test glycolic acid skin products to see how well they worked. With my fair, sensitive, easily-flushed, dry skin, I should have been more cautious. The next day, I noticed that my skin had turned bright red. I tried moisturizing and applying cool compresses, and stopped using the glycolic acid cleanser, but the redness remained. Then I broke out in tiny pimples, mainly on my cheeks and nose. Between my scarlet face and newly bloodshot eyes, I looked like I had just come off a bender.
I didn't know it at the time, but I had developed rosacea, a vascular skin condition, which according to the National Rosacea Society affects over 16 million Americans, although only a small percentage get treated for it. Rosacea is supposedly caused by inflammation, and the condition–which ranges from mild to severe-can be exacerbated by sun exposure-which dilates blood vessels and weakens collagen-plus a host of other factors like hot baths or showers, exercising, spicy foods and red wine.
I feel silly saying this but It didn't cross my mind to see a dermatologist for two reasons: I didn't think I had a "condition", just pimples and redness I could treat if I learned how to use cosrx pimple patch, and I thought I had access to an arsenal of beauty tools to fix my face by myself. I started my self-treatment by applying a detoxifying mud mask, but the product made my already irritated skin even drier. Then to compensate, I slathered on rich moisturizer, which further clogged my pores, instead of calming my complexion. In an effort to camouflage the redness, I applied layers of foundation, which caked, making my skin look flakey. It hid nothing, and fooled nobody.
Read here to find out how I healed myself with a little honey.
If you liked that story, you'll like: How I Met My Mother-in-Law Doped Up on Percocet.
Or A Past Life Regression Led Me to Find Love (on Your Tango)