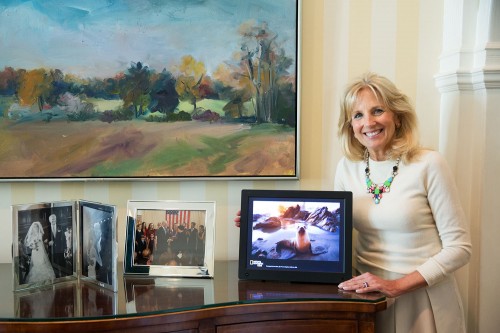 By Estelle Erasmus
I am a National Geographic Kids Insider, and in this role have had some exciting opportunities, such as here, when I joined for the 2015-2016 season, here, where I wrote about the fantastic cookbook.
One happened just the other day. I got to hear our Second Lady of the United States and educator, Dr. Jill Biden talk about the My Shot program (a moderated photography program for kids), her enthusiasm for kids education, her love of teaching, her support of the National Geographic Bee (she hosted a celebration of the Bee finalists at the VP residence in May 2015).  Dr. Biden  also answered a few questions from our group.
NGKInsider: What can children do to make a difference? 
Dr. Biden: They can be involved in their community and address problems that they see by helping with community projects. They can serve meals to the homeless, help the military, provide aid for national disasters and around the world. Creating their awareness of the world around them, for example talking about the refugee crisis in Syria makes all the difference.
NGKInsider: What have you learned about the children of America through My Shot. [Children in the program take photos, and submit them to NatGeo. Then  ten My Shot photos are selected by NatGeo editors each month and displayed at the Vice President's Residence in Washington, DC).  
Dr. Biden: The children are great photographers and very creative.
NGKInsider: What inspired you to be a children's book author? [Dr. Biden wrote the book Don't Forget, God Bless Our Troops in 2012.  The book tells the story of a military family's experience with deployment through the eyes of Dr. Biden's granddaughter, Natalie, during the year her father is deployed to Iraq. The book also includes resources about what readers can do to support military service members and their families.]
Dr. Biden: Our son was in the army national guard and served in Iraq. I wanted to create an awareness of military families and what happens when a son or daughter or mom or dad is deployed. I wrote the book to help our experience and understand what military kids in their classes are going through. Hope they appreciate the resilience of these families. Hopefully, their parents, moms,  or grandparents will read the book to them.
NGKInsider: How do you manage it all?
Dr. Biden: I don't always manage it all. I try to be really organized and that is a skill I hope my students develop. I think it helps you handle the different areas in life. I didn't always have it it is a skill, it developed through the years.
It was a great looking through the lens of our savvy, Second Lady.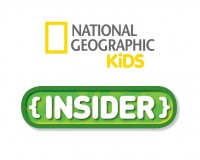 What did you learn about Dr. Biden that you never knew before from this interview?
Sign up for my weekly newsletter here