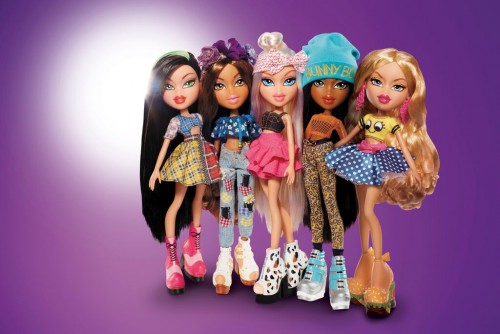 By Estelle Erasmus
I've mentioned before, that sometimes I get to take my daughter to really cool events like this one for KidzVuz last month and this one for Chizi's Tale the month before.
She even watched me make a Guinness Book of World Record on a segway at the beginning of the summer.
But, when I get to take her to an event that combines a visit to Toys"R"Us in Times Square, a delicious breakfast  in the Skybox overlooking the iconic store, and a chance to see the new Bratz collection (with its newest member Raya), that's a huge win in my mommy/daughter handbook.
At the super cool event, my daughter got to  meet pop star Skylar Stecker,  who recorded an original song, "Bratz What's Up," which is available on iTunes. More exciting news: a Bratz app will also be available soon on iTunes and Google Play.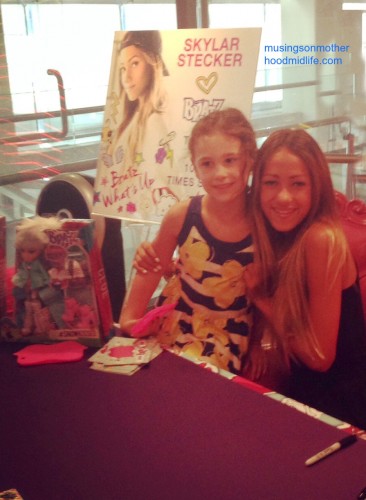 Bratz offers a wide selection of play sets that encourage creative play. My personal fav: Bratz #SelfieSnapsTM: a cool way to get to know the Bratz dolls via their selfie snap styles and fun emoji icons. Each doll comes with a smartphone and two phone cases.
I also love the Project Runway-like Create-It-Yourself Fashion Set so kids can design their own Bratz fashions for their doll with a rotating platform and mannequin.
Real-life Bratz (and the inspiration for the Yasmin doll, Jasmin Larian) answered questions and talked about the Bratz branding at the event.
I adore the smart new branding:  "It's good to be yourself; and it's good to be a Bratz," is the mantra that will soon be on little girls' lips everywhere.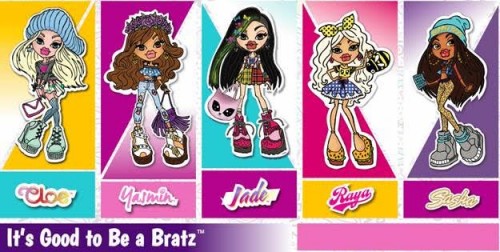 Bratz has also included new ways for girls to take the lead on creating their own world's physically and digitally (and you know I'm in favor of that).
The collection looks a little bit different (less cartoon-like, but still edgy) and the brand is coming out in big support of little girls' self-expression, individuality, diversity, confidence and creativity.
I got to test out my Periscoping skills by filming the live event (I received lots of hearts for showcasing this one–people love Jasmin/Yasmin).
My daughter even got to select a  hairdo for herself styled after her choice of her favorite Bratz doll–Jade.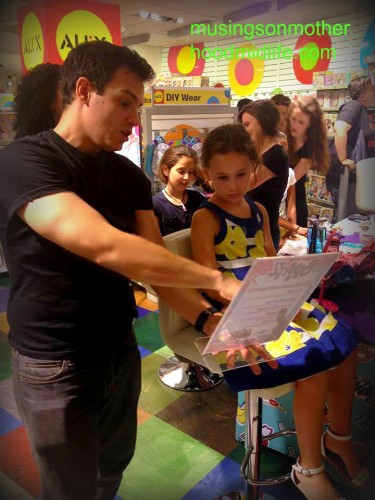 Here is an adorable video showing why it's good to be a Bratz
The core collections are available now at Target, Toys"R"Us and Walmart stores nationwide.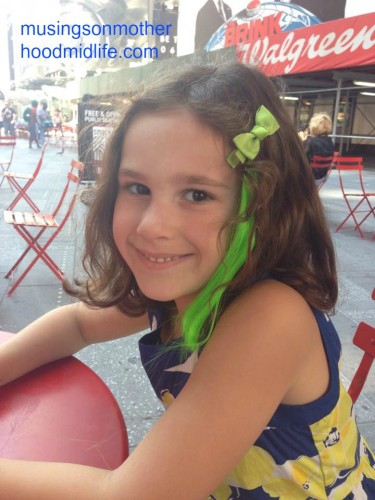 And a few weeks later, she got a surprise when she received her very own Jade Bratz Doll.
Find more information about Bratz on Facebook, Twitter, and Instagram
Does your child  have a Bratz Doll? Which is your favorite? 
Disclosure: I attended the event and later received a Bratz Doll. The opinions as always are my own.