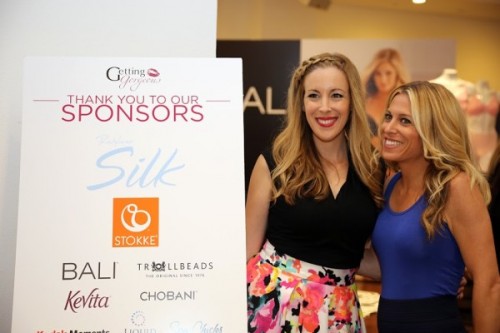 Audrey and Vera and the Sponsors: Photo courtesy of Getting Gorgeous
By Estelle Erasmus
Yes, it's a little play on words here, but I attended the fabulous Getting Gorgeous event in NYC last month, hosted by Audrey McClelland of Mom Generations and Vera Sweeney of Lady and the Blog and Title sponsored by Restylane Silk (who gave a few lucky bloggers plumper lips).
I  have attended this event for years and each time I have an amazing time, meet fabulous people and reconnect with old friends (and make some new ones). Audrey and Vera were keynote speakers at iRetreat14 in PA, last year, where I also spoke about getting published in a crowded marketplace.
So this year, I had to rush into the city, find parking and attend the event, before getting home to take my daughter off her bus from camp. I was so nervous about hitting summer rush hour traffic that I literally allotted one hour to attend their event. I had a quick hug with Audrey, but missed Vera this time.
Here's what I did while playing my own little game of "Beat the Clock"
I joined the crowd standing in line for the Physic/ tarot card reader. Since I know how to read cards myself, I kept pace with her and found her reading to be highly credible.
Then, I hopped right over to the Chobani yogurt area and got myself a mixed berry kids pouch (love that there is nothing artificial in it). Then, me and my friend Estii went to get our TrollBeads, which is personalized beaded jewelry. I am helpless at anything crafty, so I basically asked for them to custom-make one for me, and here it is.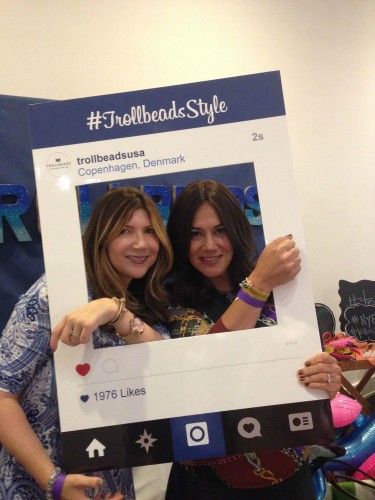 Next, with about 15 minutes to go, I tried Cocktail Caviar (they are little balls of flavor infused vodka that pop in your mouth). They had them in peach and blueberry and I tried both. You can have them on their own or you can add them to your favorite cocktail or drink. Knowing that I'd be thirsty driving back in my car, I picked up a sparkling drink bottle from Kevita Sparkling Probiotic Drinks  (my favorite is the lemon/ginger).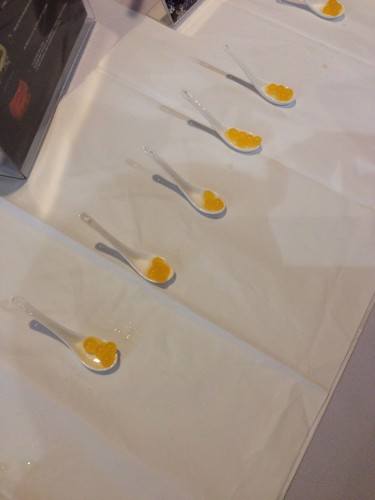 I also got fitted for a Bra from Bali Intimates (no, I won't say my size), and I'm excited that the company will be sending me one of their new styles.
Since I'd already had a blow dry and can't abide other people I don't know doing my makeup I skipped those areas. I also missed the Liquid Oxygen skincare area, which is disappointing because I recently started getting oxygen facials locally.
As I left, I checked out The Backyard Food Company (co-founded by Audrey's hubby, Matt McClelland).  I sampled their Rhode Island Red Sweet Relish (because I love a sweet relish on my hot dogs in the summer, especially since I eschew the bun) and I'm going to order a jar.
I heard I missed the face reader.  I bet she would have read alarm on my face and worry that I'd miss my daughter's bus.
No worries. It all worked out and I got gorgeous in one hour.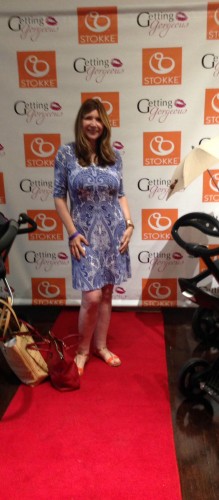 Thanks Audrey and Vera and all  your fabulous sponsors.
If you liked this post, follow me on Facebook and Twitter and sign up for posts to be sent to you.
Don't forget to read my piece about how I met my future mother-in-law strung out on Percoset and slurring my words on Yahoo Beauty called The Benefits of Meeting My Mother-in-Law at My Lowest Point
Disclosure: I received a ticket to attend the event, where I received some products in my gift bag from the sponsors. The opinions here, are as always my own.