This week is an exciting one. I'm headed to New York for BlogHer.
If you don't know, BlogHer is the premiere conference for bloggers and influencers.
This will be my third BlogHer conference. I'm so thrilled to be a BlogHer Voice of the Year (or as we call it VOTY) for the piece I wrote for Purple Clover, Giving Up the Ghost Baby.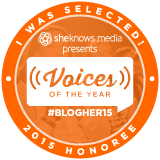 It is my third time as a VOTY. In 2012 and 2014 I was honored in the op-ed category.  This year there is a champagne reception where I'll get to meet the other VOTYs, many of whom I already know and admire.
Also, I'll be speaking on a panel called "Kill All Your Darlings" with Susan Macarelli of Beyond Your Blog on Saturday, July 18th from 2:00 pm. -3:30 pm.
Here is some info on the panel:
The phrase "kill all your darlings" is shorthand for something all writers have experienced: Editing can be painful, but it's necessary. This panel of writer/editors will share how we look at articles and posts to edit, and why we make the changes we do. Then, we'll show you how to look at your own work with an editorial eye and make it stronger (even if those cuts run deep).
Hope to meet you there. Please come up and say hi!
Seriously, with my contact lenses in its hard for me to see and read everyone's name tag.
Estelle