By Estelle Erasmus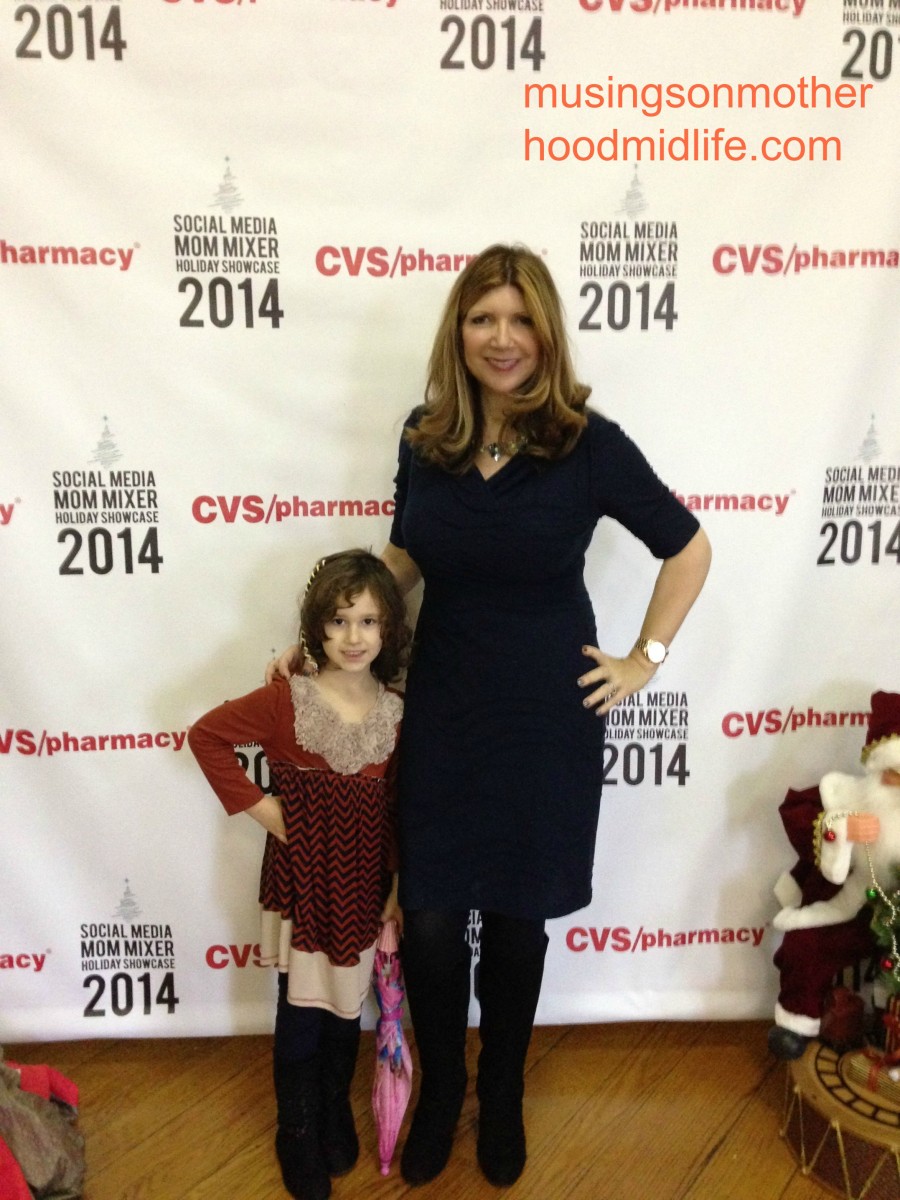 Last month I attended my first Holiday Mom Mixer by Colleen of Classy Mommy and Whitney of Mommies with Style. I had previously attended a Spring Mixer, which I wrote about here. This Mom Mixer was held at the Franklin Institute and so I brought my daughter and we had a wonderful time.
Here are some of the highlights (from my daughter's point of view). Everything mentioned here makes a great holiday gift or stocking stuffer.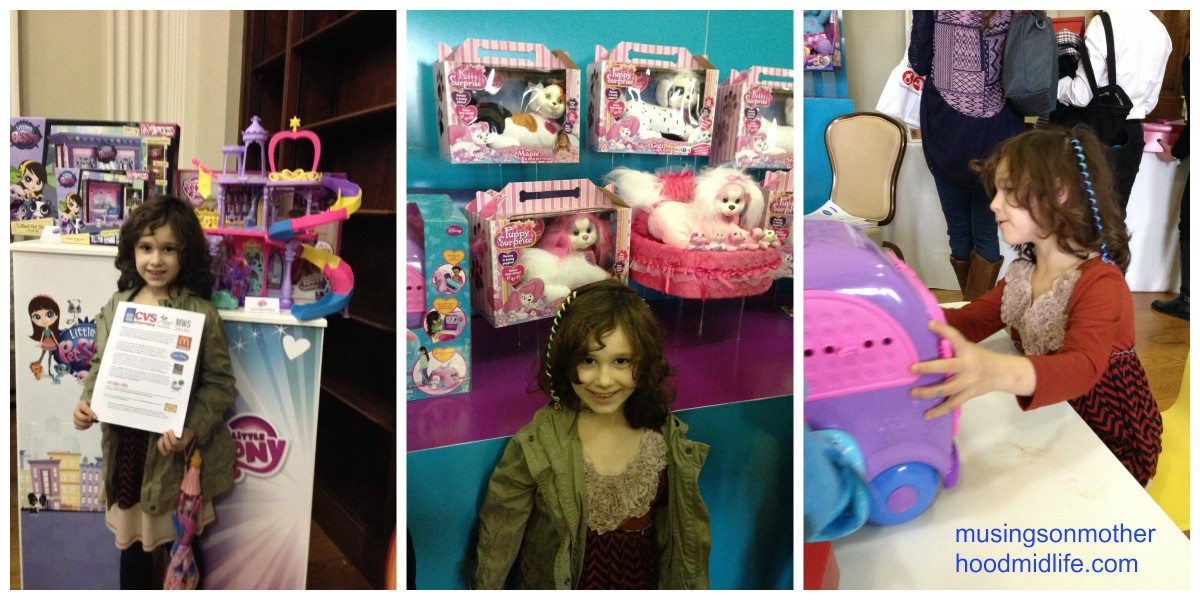 Hasbro We couldn't resist stopping by to play with Let's Imagine Elmo and classic games such as My Little Pony Friendship Rainbow Kingdom Playset and tinker with the characters from the Littlest Pet Shop animated series. We ask made a stop at The AmazingZhus to play with the magician and stunt pets.
I adore the toys from JustPlay. My daughter made a bee-line for the Doc McStuffins table (3rd pic on right), where she had fun playing with the award-winning Doc McStuffins Get Better Talking Mobile–a clinic on the go for the Doc to take care of the neighborhood toys. She really likes to care for her friends, so loved the motion-activated siren that lights up and plays the "Doc Mobile" song. The Talking Mobile also comes with a light and sound EKG, otoscope and thermometer for on-site checkups and a bandage sticker dispenser to fix boo boos. I love that Doc McStuffins teaches empathy.
Next, she couldn't resist Puppy Surprise. The '90s hit that features a mommy dog with a surprise number of puppies in her litter–aka her tummy. There are four puppy families to love and groom (Popcorn, Sugar, Zoey and GiGi), and my daughter loves her pink puppy-Zoey, that arrived with five adorable puppies in her a few days later, so much.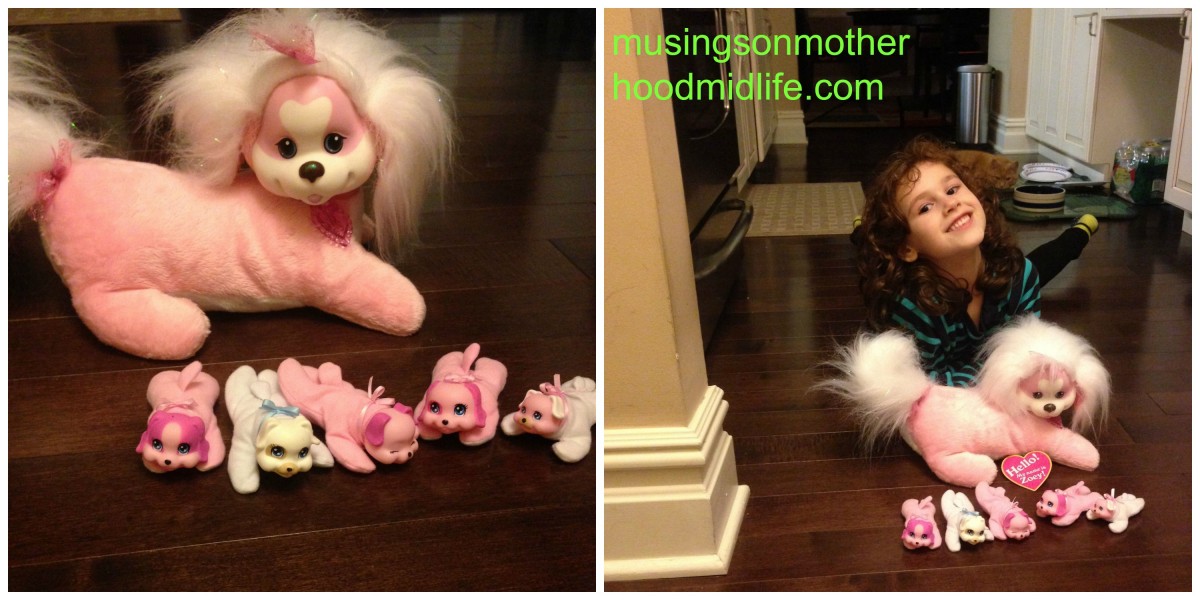 She made her way to the Care Bears. These beautiful bears are sweet, snuggly and super soft and include the characters Cheer Bear, Funshine Bear, Share Bear, Harmony Bear, Tenderheart Bear and Grumpy Bear. For some reason I don't remember when the Care Bears were first popular, but they are a classic, for sure. She took a particularly strong liking to these and so I've been looking at the Care Bear onesies on www.kigurumi.co as they would be a great gift for her.
Doodle Bear As I've mentioned before here, we had the great luck to meet the original inventor of the Doodle Bear, Ed Kaplan. Read about that experience here. So it was extra fun to see the cool Doodle Bears in their latest incarnation. Each Doodle Bear comes with special washable markers, and there is a Glow Doodle Bear that includes a magic light pen and stampers.

CVS We headed over to the Snack Corner and got to try the newest delicious Gold Emblem chocolates, trail mix, granola bars and cookies. We especially loved the Gourmet European Truffles (first pic on right), the Soft Baked Chocolate Chip Cookies and the Chocolate Bars. The treats are true to their name…Pure Gold.
Spaghetti Headz We loved getting these new hair twists put in our hair. This makes a great stocking stuffer as well, and is made of polymer clay, so it's eco-friendly and fun.
Stride Rite: We viewed the company's amazing FROZEN collection. Stride Rite even offer a Holiday Gift Guide. We tried the Wow Cups which atomically seals for no spills and comes in adorable colors.
After the Mom Mixer, we used our tickets for the museum and checked out the new exhibit Sesame Street Presents. We even enjoyed a visit from a furry friend!
Can't wait for next year's Spring Mom Mixer. Thanks Colleen and Whitney!
Disclosure: I received a gift bag for my attendance at this event and one of the toys. The opinions here, as always are my own.
[jetpack_subscription_form]
Follow Me: