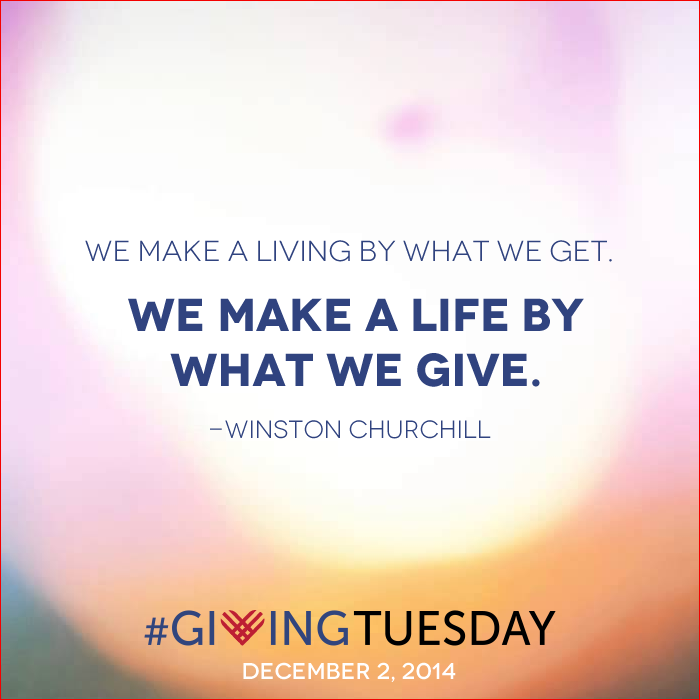 By Estelle Erasmus
Move over Black Friday and Cyber Monday. Make room for #GivingTuesday – a global rally for great giving which falls on December 2nd this year.
I'm proud to be a social media ambassador for Giving Tuesday.
What I like about the movement is that no one charity is supported–each person chooses who to support and how, whether it's a tweet, a donation, volunteering, giving time, or socially sharing on either a virtual or physical level.
Here is a short video about Giving Tuesday.
In honor of #Giving Tuesday I tapped into a slew of my friends and colleagues to find out where they like to give.
I'll start:
I like to give to Mothers & More. I'm a past president where I served on the board of directors, and a current member of the nonprofit's advisory council.
The mission of Mothers & More is to connect mothers through a virtual and local network throughout the United States, and to provide programming and national community for moms through all stages, phases and transitions of motherhood.
Here is the link to donate
Mothers & More will be holding an online Expo from January 25th through January 31st, where there will be keynote speakers (on flexible job options, money mastery, how to raise a thoughtful communicator in a digital world), as well as demos (cooking, meditation, fitness, relaxation) and giveaways.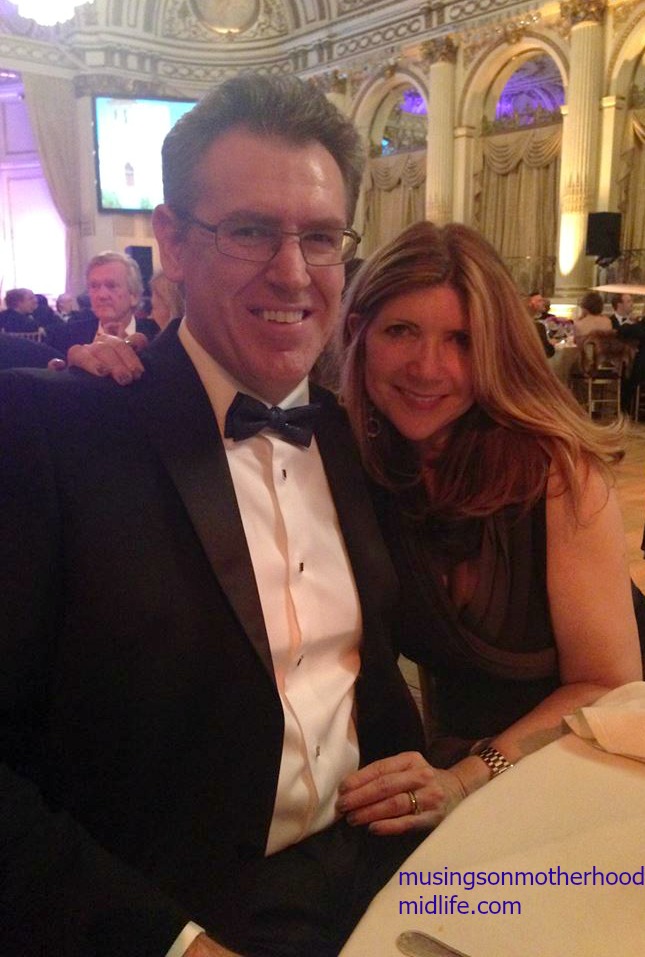 Another pet charity of mine is The Lighthouse Guild which supports care and education for people who are blind or vision impaired. I attended the gala last night at the Plaza with my husband (pictured above), and they do such wonderful things to support and rehabilitate people with sight problems.
Here are the rest of the wonderful organizations to check out and open your wallet for or volunteer at based on recommendations from 53 fabulous and talented women (please follow them on their blogs and sites).
Giving Roll Call
Lauren Apfel of Omnimom for Cancer Research UK
Gina Badalaty of mom-blog for National Autism Association
Nina Badzin for The Wounded Warrior Project (helping injured veterans).
Esti Berkowitz of Prime Time Parenting for Masbia Soup Kitchen (they feed healthy and fresh food to not only the Jewish community but other communities as well).
Carla Birnberg for Mayan Families ( provides opportunities and assistance to the indigenous and impoverished people of Guatemala through education and community development programs).
Helene Cohen Bludman of Books Is Wonderful for Best Friends Animal Society
Ciaran Blumenfeld of Momfluential for Kids Save
Lisa Carpenter of Grandma's Briefs for Feeding America (particularly their Child Hunger Ends Here campaign).
Melissa Chapman of Married My Sugar Daddy for Louie's Legacy Animal Rescue
Rita Cheng for Independent Awakening
Cathy Chester of An Empowered Spirit for The Pancreatic Cancer Action Network
Ava Chin for NY Foundling (a shelter which serves at risk families and children).
Jessica Rubin Cohen of Eat. Sleep. Be for The Arbor Day Foundation (which provides resources for the nationally-celebrated observance that encourages tree planting and tree care).
Val Curtis of Bon Bon Break for It Pays to Promote (on Bon Bon Break
Margit Detweiler of TueNight for Willie Mae Rock Camp for Girls
Cindy Dudas of Whatever Works for The Jetty Rock Foundation (this charitable organization was formed in June of 2013 as a direct result of Jetty's massive Sandy Relief efforts).
Holly Rosen Fink of The Culture Mom for St. Jude Children's Research Hospital
Nancy Friedman of Hip To Housewife for DonorsChoose.org (see what great teachers need for their students).
Kim Jorgensen Gane of GANE Possible for The Readiness Center (located in Benton Harbor, Michigan, this community resource tries to break the cycle of poverty by helping prepare and educate families by supporting their children's education).
Stephanie Giese of Binkies and Briefcases for Seemingly Obvious (Stephanie says: "We are not a registered non-profit, but we are working with the American Psychological Association on this project)".
Sharon Greenthal of Empty House, Full Mind for The National Bullying Prevention Center
Lisa Heffernan of Grown and Flown for Neighbors Link (an organization that strengthens the whole community by actively enhancing the healthy integration of immigrants).
Randi Horwitz of SocialEyesNYC for The American Cancer Society
Sheryl Kraft of My So-Called Midlife for Memorial Sloan Kettering Cancer Center Fred's Team
Wendy Kaufman of ABCs and Garden Peas for My Sisters Circle ( a charity that provides mentors for underprivileged girls in Baltimore).
Susan Maccarelli of Pecked to Death by Chickens and Beyond Your Blog for The Wounded Warrior Project
Jennifer Maidenberg of Yadda Yadda for FARE (food allergy research & education).
Lois Alter Mark of Midlife at the Oasis for The Elephant Sanctuary
Carla McDonald of The Salonniere for Feeding America
Cissy Mecca of Underwear in Our Kitchen for Epilepsy Foundation
Judith Newman for LearningSpring School (a place for children on the autism spectrum to learn and grow). To donate go here.
Avital Norman Nathman of The Mamafesto for The Lilith Fund
Elizabeth Norton of EduVAcation for ActivationReACT
Jennifer Oxenford of Philly Fun 4 Kids for Alexs Lemonade Stand
Anne Paris of Not A Supermom for CARITAS (provides food, shelter, and case management to homeless families and homeless people in the churches in and around Richmond, Virginia).
Lisa Pisano of Mom A La Mode for Stand Up To Cancer
Kathy Radigan of My Dishwasher's Possessed for The American Cancer Society
Jordan Rosenfeld of Write Livelihood for Unravel Pediatric Cancer
Debra Rutt of The Harried Mom for Action Against Hunger (a NJ-based food pantry)
Ellen Seidman of Love That Max for Reaching for the Stars (which funds cerebral palsy research)
Tina Creaney Seitzinger of Life Without Pink for Kaboom
Jo-Lynne Shane for Cradles to Crayons in Philadelphia
Kristin Shaw of Two Cannoli for Safe Place
Aliza Sherman for G(IRL)s 20 (a global platform that economically empowers girls and women all over the world)
Charlene Smith for National Race Amity (in U.S., which promotes race reconciliation and understanding ) and in South Africa for NKosi's Haven (supports Gail Johnson's work with HIV infected mothers and their children).
Jill Smokler of Scary Mommy for The 2014 Thanksgiving Project
Marcelle Soviero of Brain, Child for Girls Write Now
Allison Slater Tate for The Breast Cancer Research Foundation
Whitney Wingard of Mommies with Style for The Kolbe Fund ( they provide funding for people traveling to Philadelphia and Wilmington for treatments for their kids).
Linda Maltz Wolff of Carpool Goddess for Pancreatic Cancer Network
Aliza Worthington of The Worthington Post for Casey Cares Foundation (they provide comfort and relief for critically ill kids and their families).
Nicole Yniguez of Mommy Tips by Cole for Talk About Curing Autism
Kathy Zucker of Mom Condo Living for Community Food Bank of New Jersey
Thank you everyone who participated in this post. I really appreciate you sharing your favorite organizations and charities to give to.
So get ready and join us on December 2nd.
Because to give of yourself is the best way I know how to make a difference in the world.
Happy GivingTuesday, Happy Thanksgiving!!
Where do you give?
[jetpack_subscription_form]
or

Follow Me: