By Estelle Erasmus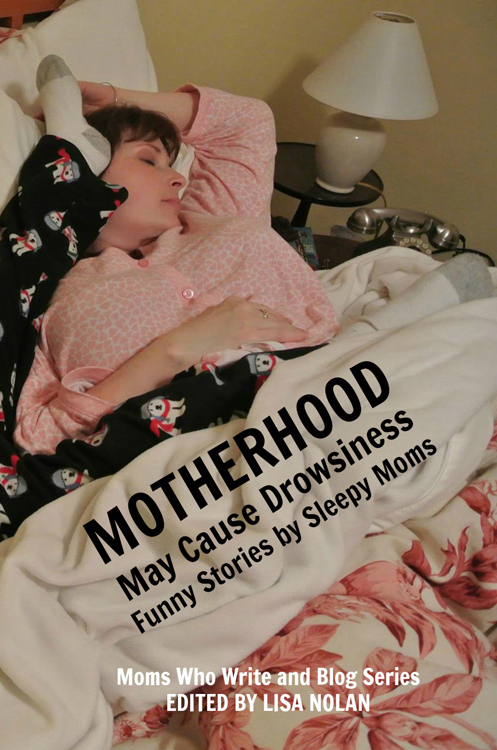 A few weeks ago, I did my first google hangout interview, and I couldn't be more thrilled about the subject: Lisa Nolan, owner of Monkey Star Press, and creator/editor of the anthology Motherhood May Cause Drowsiness: Funny Stories by Sleepy Moms, a rollicking collection of stories about those early first days of being a mom, and the lack thereof of sleeping.
Now don't hate me: but lack of sleep was never an issue for me except in the very first few weeks after my daughter was born. The reason: I had help so I could recover from my C-section and after the help left, my daughter drank 8 ounces of formula her first week home from the hospital, so she slept like, well, like a baby.
I was relieved. I always had this fear of not being able to catch up on my own sleep when I became a mother, but luckily, I was still able to get some much-needed downtime during these first few weeks. I wanted to be the best parent I could be, and that means having my own rest, right? Don't get me wrong, there were times when I considered taking something like CBD oil to help me fall asleep at night, but before I could look at the best place to do so, I fell asleep. But it's a good job I had a backup option just in case. My only wish is that everyone gets to experience what it's like to have a baby that sleeps through the night. It almost feels like heaven.
Still, everyone I know can relate to the stories in this book-a supremely easy read– which range from the laugh-out-loud funny to the knowing chuckle-funny.
I loved seeing some of my favorite humor writers in the book, like Michelle Lewsen from They Call Me Mummy who writes about the realities of "sleep training" in The Day I Met the Sleep Angel. Stacia Ellermeier, from Dried-on Milk who writes in Dear Baby of Mine: "Why do you stand in your crib at all hours of the night and yell at everyone? Dude, I'm able to hear you, but I choose not to because ONE OF US NEEDS TO SLEEP!"
Lea Grover from Becoming Super Mommy (who I was just in another anthology with that I talk about here ), penned a poem , My Child's Bedtime Lament. Stephanie Sprenger, of Mommy, for Real poignantly writes in Parental Paralysis "There's a good reason sleep deprivation is used as a form of torture."
Kathy Radigan, from My Dishwashers Possessed, contributed the essay In the Wee Small Hours of the Morning.
Kathy writes, "I'm so tired during the day that I could fall asleep while standing with a cup of coffee in my hands…But I can't give up my midnight rendezvous with someone I don't get to spend much time with anymore: me."
I'm a huge fan of the midnight (or 2:00 am self-rendezvous or shower) so Amen to that.
Altogether 43 mom lit/parent humor bloggers combed through their memories to tell their stories.
These conversations, confessions and rants will amuse, delight, inspire and remind you to look at your family's bedtime routine with new eyes.
Here is the Google Hangout Interview. Lisa was a terrific interview. Click on the YouTube button on the bottom to go to the taped hangout on YouTube.
Lisa has a few more anthologies coming down the pike, so follow her on all her social media channels and listen here to this podcast interview of Lisa by Susan Maccarelli of Beyond Your Blog.
Buy Motherhood May Cause Drowsiness on Amazon.
Find Lisa Nolan on her website and at The Publishing Bloggers Network, where she does Q & A with authors, bloggers, writers, poets and miscreants on her blogs.
And don't forget to buy the book, here.
This is one book purchase you will not lose sleep over.
Which anthology from Monkey Star Press are you interested in contributing to?
Disclosure: I received a copy of the book for review. The opinions stated here are all my own.
[jetpack_subscription_form]
or

Follow Me:
On YouTube Facebook
Twitter Pinterest Instagram
Find out 10 Things You Don't Know About Me (Short Video)
See My Videos
Follow Me On YouTube
Learn more About Estelle