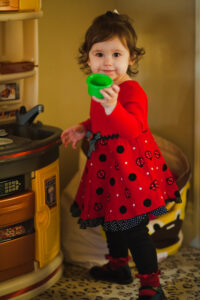 OpinionMom's Talk Q&A: Are Toys that Teach Out of Reach?
By Estelle Sobel Erasmus
Q: I'm always at a loss for what toys I should get my toddler (or ask for as presents). I really want her to play with toys that are educational, not just recreational, but I have no idea where to start. Can you share your thoughts?
A: My daughter doesn't have a lot of toys (by my and my husband's choice), but out of the ones she does have, she far prefers rhyming books (such as Is Your Mama a Llama?), her dolls, coloring books, crayons and her toy kitchen to anything that uses batteries or has buttons to push. (Of course, she also considers my iPad a toy and enjoys pressing its button, which also presses my buttons…but that's another story─and not a toy story).
The point is she prefers toys that are interactive, that allow her to be creative and those kinds of toys make the best teachers.
For a few more suggestions, I tapped into the expertise of Chelsea P. Gladden, co-founder of www.BreezyMama.com, a site that provides advice to moms, who offers the following tips:
Invoke Imagination to Avoid (Your) Frustration: Before buying a toy, consider what your child has to do in order to play with it. For example, instead of giving your child a toy with tons of gadgets, consider offering her a set of building blocks or Legos so she can create her own designs while also improving her motor skills.
Old School is Still Pretty Cool: Whatever you do, don't get caught up in the frenzy to buy the hot new toy of the moment. More traditional play items like puzzles, shape matching cards, puppets, dolls and painting sets are great skill builders because they either get your child to problem solve or to use his imagination.
Search for Hidden Treasures: Instead of hitting the toy aisle, you can reach into your cupboard and pull out mixing bowls, measuring cups, or Tupperware containers. Remember, toddlers love to mimic the activities they see their parents engaging in (such as cooking, baking or drinking coffee or tea), so be sure to give them those opportunities.
Don't Stress When They Mess: Toddlers are budding artists in the making, and in the process are finding ways to express their creativity. So break out the paints, crayons and markers, and let your child "go for it." You can even purchase a professional paint brush, fill a bucket of water and ask your little one to "paint" the outside of your house.