If you are like me, you look forward to Passover, the perfect family holiday. Yes, it celebrates the struggle the Jews had to escape from slavery and mistreatment, but Seders combine family entertainment in a two evenings: music, a compelling story, interactivity—kids reciting the four questions, a game with a prize at the end-—hiding the Affikomen, and, of course  matzo.
But matzo isn't just for grownups anymore.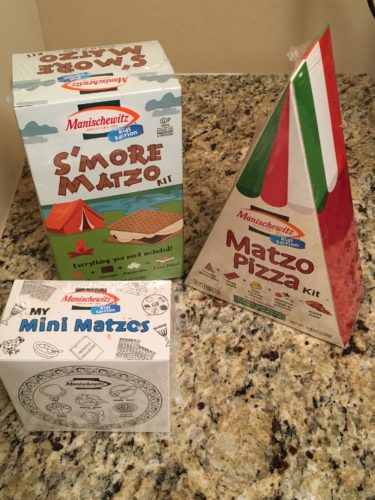 Manischewitz—the largest producer of kosher food in North America— has gotten into the spirit of the holiday with its new triangle-shaped matzo (perfect for kids little hands), as well as new ways for kids (and kids at heart) to eat.
The new shape debuts as part of the company's new Matzo Pizza Kits, ready for Passover (April 10-18).
"Matzo Pizza is a Passover staple for Jewish families during the Passover holiday," explained David Sugarman, CEO of Manischewitz. "During the festival of Passover, members of the Jewish faith are not permitted to eat foods made with yeast or leavening, so matzo pizza has become a popular way to break the monotony for kids who have to forego sandwiches or other standard menu items. We are allowing them to continue the tradition, just making it a lot more fun along the way," he adds.
Manischewitz Matzo Pizza includes eight triangle-shaped matzos, along with eight packets of pizza sauce, neatly packaged in an eye-catching triangle-shaped box.
My daughter loved personalizing her pizza after spreading the sauce on it, and sprinkling it with cheese. Literally, thirty seconds later in the microwave it was done—and delicious.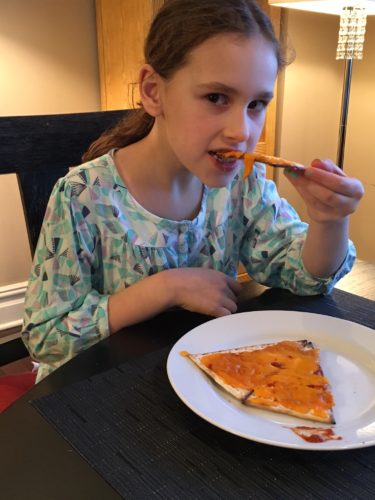 We sampled the My Mini Matzos (which include an on-pack coloring activity that doubles as a place card of the Seder or any meal). My Mini Matzos are also part of a nationwide program Manischewitz has created in support of Jewish Community Centers and other Jewish organizations nationwide. Dubbed "Afikomen LIVE," the product will be at the center of community-based Passover programming in major cities such as New York, Philadelphia, Chicago, Los Angeles, DC, Baltimore and Phoenix.
After the pizza,  both of us made mouth-watering  S'mores (a summer favorite)  from the award-winning S'more Matzo Kit (which includes four servings of Manischewitz mini matzos, chocolate and marshmallows).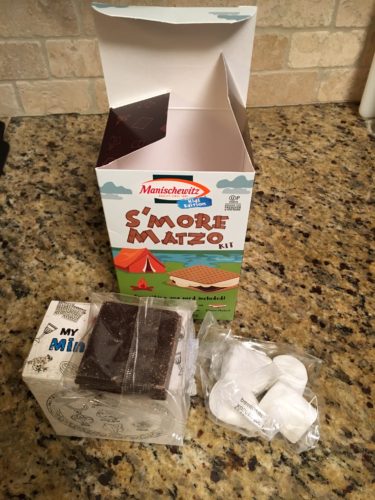 It was so easy to make. First take a mini matzo. Place a slice of delicious, dark chocolate on it, and then a marshmallow, pulse for 10 second increments in the microwave and voilà, delicious dessert–not just for Passover, I might add.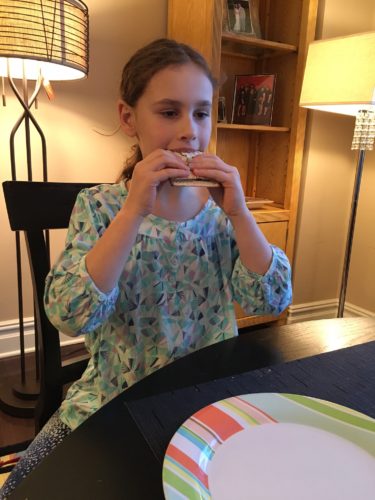 See www.manischewitz.com for more product and recipe information!
But don't just take my word for it!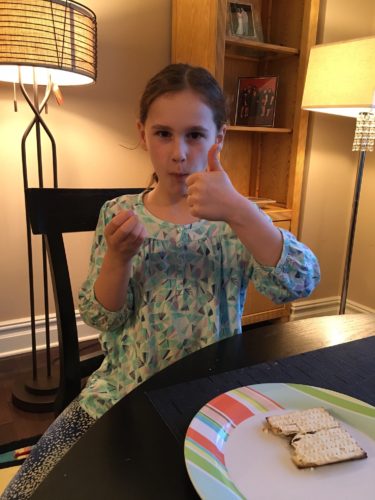 Disclosure: I received the matzo kits to sample. All opinions are my own