By Estelle Erasmus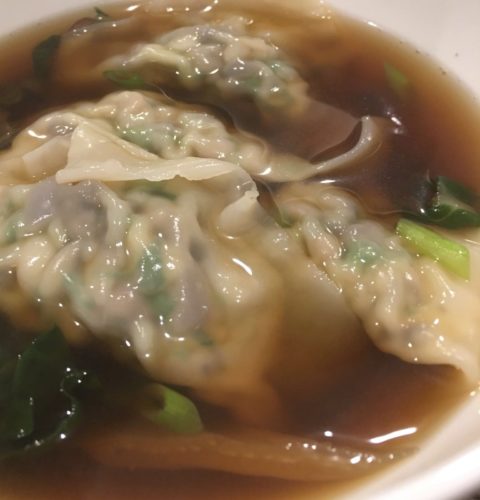 When you are a busy mom, writing coach and chair for the American Society of Journalists and Authors conference like me, there is little time to cook. Not that I even like to cook. I like to get food delivered, have my husband cook (on weekends), get precut ingredients that I can work with, or go out. I have foodie tastes, but zero patience to do it myself.
But of course this all takes time and money. Enter The Wonton Lab.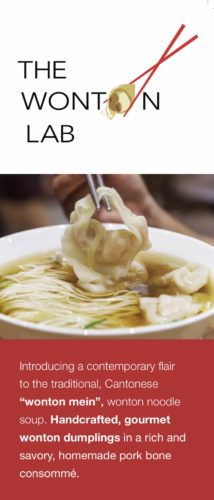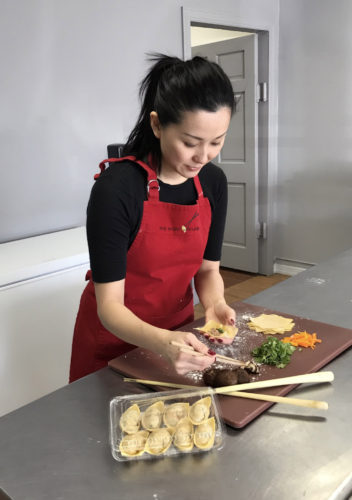 The brainchild of former fashionista and my good friend, Wendy Kwan (whose career took her to the showrooms of Calvin Klein among other famous outlets), The Wonton Lab offers handcrafted, gourmet wonton dumplings in a rich and savory, homemade pork bone broth, with noodles on the side and a variety of dipping sauces and fried garlic to top it off (delicious).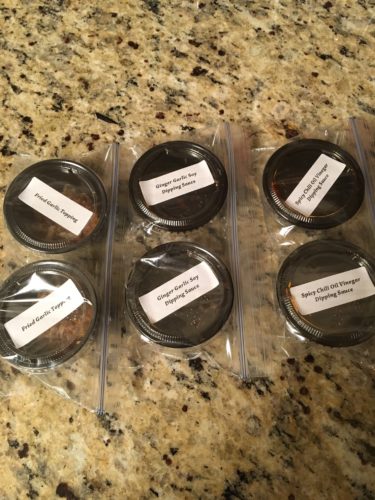 The flavors will get you salivating.
*Pork cilantro with chopped squid
*Shrimp with ginger pumpkin
*Shrimp with tobiko (those yummy fish eggs I go crazy for in sushi)
*Organic beef with shiitake mushrooms
*Organic spicy chicken with lemon grass and Thai basil
All in wheat flour wraps.
She even offers a vegetarian option, mushroom trio with salted spicy radish.
And it's simple: .All it takes is 15 minutes to prepare (and she offers large colorful instruction sheets) and your meal is good to go. That appeals to this mom a lot!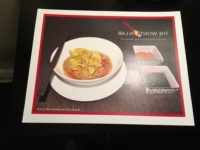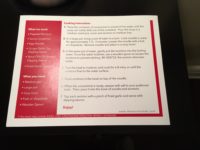 Wendy gave me the opportunity to sample the delicious wontons (I tried the pork and shrimp ones), with my own little tester, who gave it a thumbs up. She ate it with the noodles, but eschewed the broth, and I did the opposite. Both ways were delicious.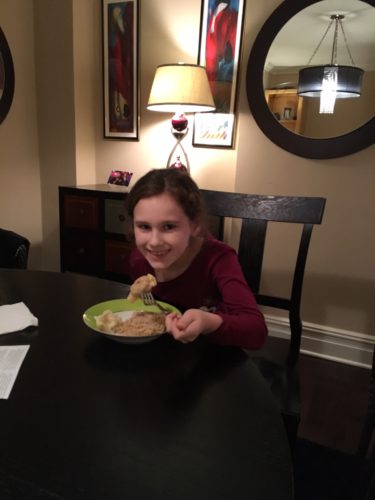 I asked Wendy a few questions about the origin of her business (she officially started in January, and already has bookings till the summer).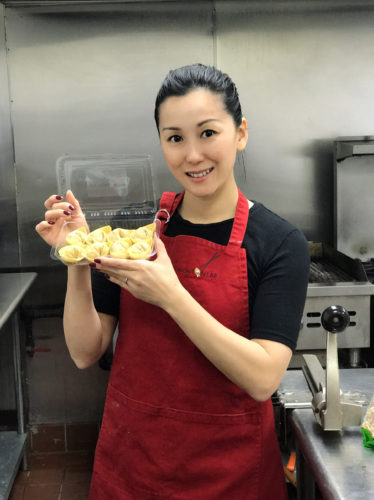 Q; "You recently made a pivot from fashion to food. What compelled you to do that?"
A: "I always liked cooking and seeing my friends and family enjoying food. I love everyone  gathering in the kitchen and chatting away. I also recall the comfort food from my upbringing and when I lived in Manhattan and visited small neighborhood restaurants. The chicken noodle soup from Morimoto was one of my favorites."
Q: You really have taken traditional Chinese food and turned it into something very exciting, particularly for foodies like myself.
A: Yes, I wanted to separate myself from the traditional wonton dumplings at a Chinese restaurant . Let's face it, the modern palate is more sophisticated, so I wanted to modernize the concept."
Q: "Did you research your creation."
A: "Yes. In many ways, it's been a family affair. My daughter and husband and cousin  are tasters and my friends have helped me by doing focus groups."
For orders (she ships them frozen all over the country),  and media inquiries as well as for local upscale catering  for plated wontons in beautiful cups in NJ, NYC and surrounding areas), email order@thewontonlab.com.  Find them on Facebook and Instagram, too at @thewontonlab. The website is The Wonton Lab.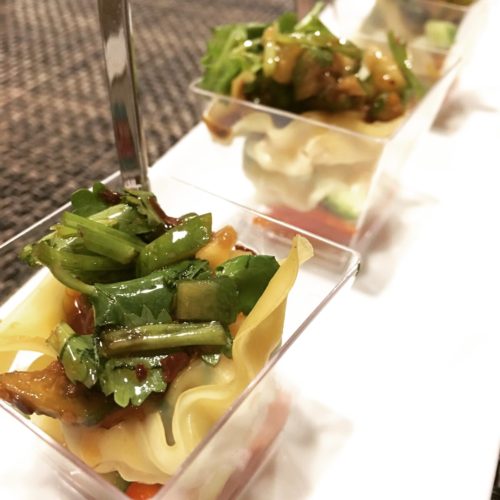 Disclosure: I received samples of the wontons for a meal. The opinions are all my own.