By Estelle Sobel Erasmus
I don't know about you, but I love to travel. Before we had our daughter, my husband and I would pack our bags, drop everything and travel on a whim. Cayman Islands? We've been there-twice. Hawaii? Got married in Maui and honeymooned in Kaui. Australia? We have relatives who live there. South Africa? Yup, we've been on Safari. Before you even ask, we got engaged in Bora Bora Tahiti, where we stayed in an overwater bungalow. Jealous much? Don't be.
Our oversea travels since my daughter was born in 2009? One glorious trip to Prague last year which was the first and only time I've ever left my daughter alone (she stayed with my sister, which was such a boon). The amazing trip was a mixture of business and pleasure (meaning my husband's business was my pleasure).
Which is why I was so glad to hear of this Jet Blue Sweepstake. Just click on the picture and be entered to win 100,000 Jet Blue Points (you can easily get 500 points). That is pretty amazing and can take you pretty far.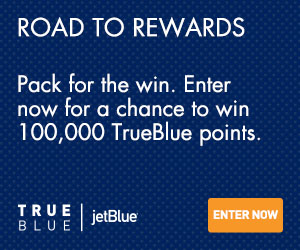 Maybe not as far as Tahiti, but far enough to relax, rejuvenate and create some family and personal goals for the New Year.
Note: This post contains affiliate links. See my disclosure policy for full information.
Please follow and like us: